*This is part of our State Of The Art series, showcasing bands every Monday from the featured State*
This month's State is Minnesota!

Coincidence, fate or just good timing, it is funny how things work out sometimes. While we are having no difficulties finding good Metal in Minnesota, a band was brought to my attention just before the state was chosen for this month's State of the Art series. Heavy Power Metal (which, incidentally, is one of my favorite types of Metal) analogous to legendary bands like Iron Maiden, Hammerfall, Blind Guardian, Amon Amarth and Iced Earth. This week I give you Eternal Voyager.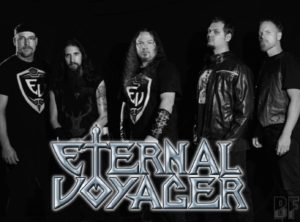 While not widely known outside of the Minnesota area where they are long-time staples, Eternal Voyager is no noob to the Metal world. Not by any stretch of the imagination. From Bloomington, MN and having been originally named Eternal Requiem, Eternal Voyager was some formed eighteen years ago and has been tearing it up ever since. Frontman, guitarist and songwriter Brian Blake has been the point-man since the band's inception and continues to be the standard-bearer for their brand of heavy Power driven by strong choruses and melodies with the addition of European Power Metal dramatics and dynamics not often heard from North American bands. Not unheard of, by any means, but not often done as well as Eternal Voyager does it. Starting life as a trio many years ago, there have been numerous personnel changes over the years, Eternal Voyager currently enlists the talents of Brian Blake on guitar and vocals, Micah Devereaux on vocals and keys, Kurt Johnson on the lead axe, Maike Durenberger on drums and Jeff Igelrud on bass and is said to be "comprised of the most professional, powerful, and dedicated musicians the band has ever seen" according to Blake from the EV website. This is a huge compliment to everyone involved considering former guitarist for Epecurian Rob Nesco and Firewind/Outloud keyboardist Bob Katsionis have both played in earlier incantations of the band. Individual influences include Iced Earth, Hammerfall, Iron Maiden, DIO, Judas Priest, Rush, Tool, Led Zeppelin, The Police, Opeth, Testament and an assortment of early eighties thrash that give Eternal Voyager a range that allows them to produce music rangeing from introspective and thoughtful slower pieces to hard hitting and angry songs based in mythology, war and the ongoing battle of good vs. evil and freedom vs. tyranny. Fitting subject matter for the genre they aim to dominate. Eternal Voyager has released two demoes called "Holy Warrior" in 2009 and "Vagabond" in 2010 along with a recently re-release LP entitled "The Battle Of Eternity" originally released in late 2014. All are heavily driven by ariose guitar-work, rich and strong vocals stratified over pounding bass and drums blasting analogous to a volcanic eruption. Since recruiting the keyboard/songwriting talents of Devereaux and producer Stu "The Hammer" Marshall (Death Dealer/Blasted to Static/Zephaniah/Vanlade/Corners of Sanctuary), the next concept album due out by the end of the year entitled "Darkened Times" promises to be more dynamic with a more a more straight forward storyline and will solidify Eternal Voyager as a top player in North American Power Metal. EV normally plays in the Minneapolis/St. Paul area but has been seen on the bill at various music festivals with numerous touring acts in and around their local turf and is anxious to have the opportunity to formally tour as soon as possible. A video for "Winds Of Fire" is also in the works but is yet to be released. Definitely looking forward to seeing this. In the interim while we wait for the next album, "The Battle Of Eternity" can be picked up from CDBaby, iTunes, Amazon or from various other music outlets.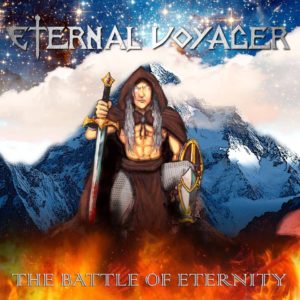 With a band basing its name on the eternal, undying belief in oneself on the voyage of being true to yourself and those that support you, Eternal Voyager brings the fire, playing their long loved flavor of heavy Power Metal and should, without a doubt, be on your list of discovery bands to listen to, support and go out and see when they reach your area as they expand their influence.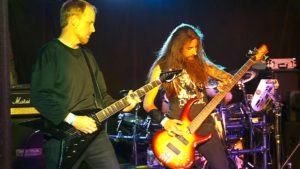 As an addendum, I have secured an interview with Eternal Voyager and would like to offer our readers the opportunity to ask them whatever you are curious about about this killer band. Questions can be emailed to Odyssey. I look forward to your questions (soft deadline by 19 September 2016 please).
More on Eternal Voyager can be found on: Web  Facebook