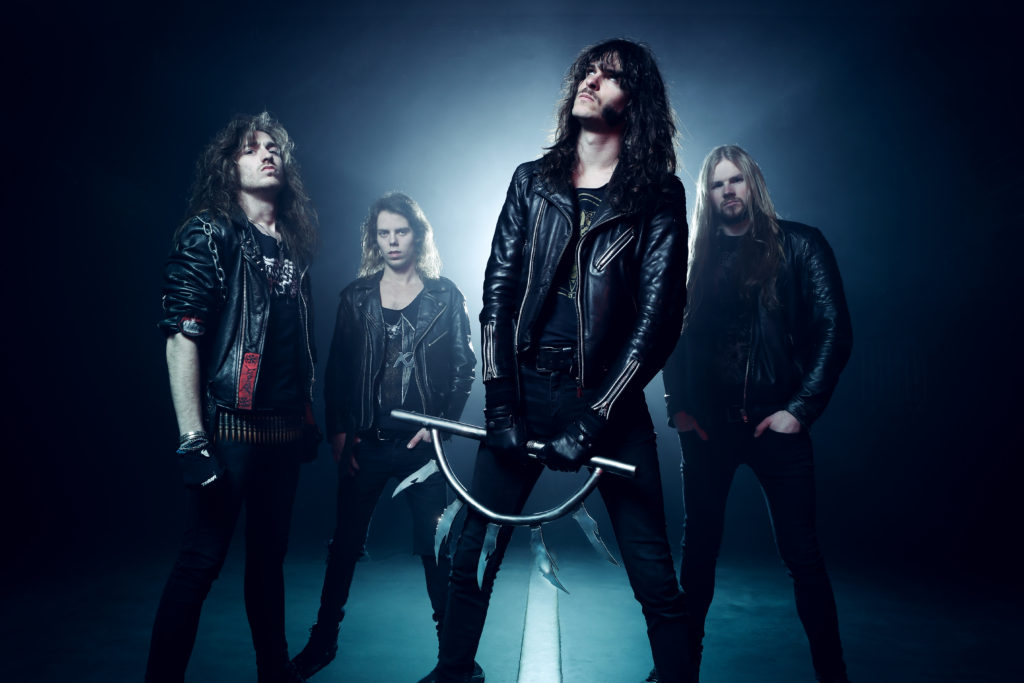 Three long decades ago when the denims were tight, leather jackets worn, ragged and hair unkempt in the golden era of 1980s, Steve "Zetro" Souza of EXODUS shouted in the song "Deranged" off the album "Pleasures Of The Flesh"  in his raspy voice, "It doesn't make me calmer, it only makes me mean". Little did he know that those words would still carry the feeling and aggression portrayed in it, which is still relevant in today's thrash metal and it is an innate characteristic of this highly erratic and fast sub-genre in the entire spectrum of metal. I quoted the above lyric because that is exactly what these four angry hot blooded young men from Belgium offer you in their latest sophomore release, "Feed Me Violence", titled very aptly. Watch out for this fast paced, gritty and nerve wrecking thrash metal record from young guns EVIL INVADERS as the release date nears soon, coming out like a hot bomb via Napalm Records on September 29.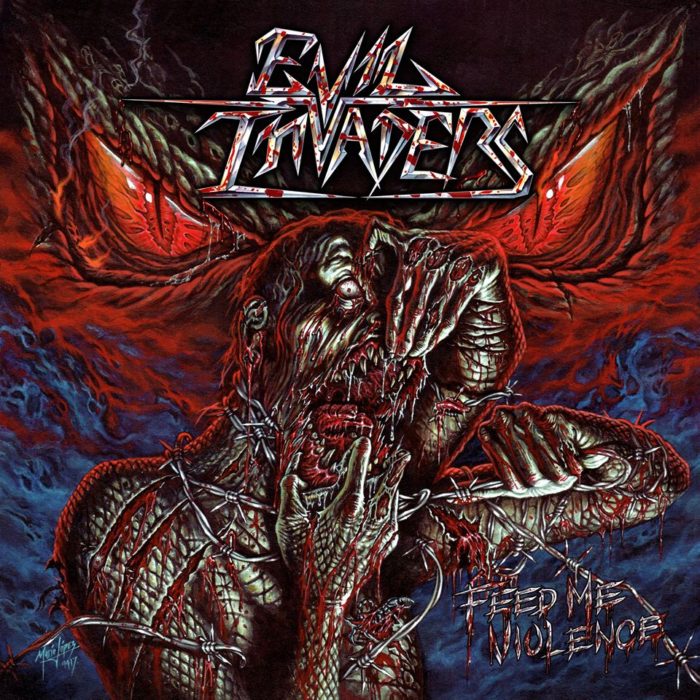 EVIL INVADERS are a quartet hailing from the beautiful European nation of Belgium. With just under four releases from their inception starting off with 2013's self titled EP, 2015's debut album, "Pulses Of Pleasure", last year's "In For The Kill" EP, the band are adamant on reviving the old lost glory of the 80s unadulterated, mean, rude and fast speed metal. The 80s revival has now been going on for some couple of years now, with a lot of bands bringing to life the old aggression from the vault, so much so that it has lead to the coinage of the term NWOTHM(New Wave Of Traditional Heavy Metal). And EVIL INVADERS brings to you exactly the same nostalgic 80s speed metal with a more polished modern sound, even faster and more rampage with their all new "Feed Me Violence".
The opening track "Mental Penitentiary" serves you right what you are expecting for, right on the get go. Better if you weren't expecting the relentless and rapid riffing though, it'll make you go "Whoaa!". The track starts off with a classic drum roll and an ear splitting wailing guitar, followed by a rapid short solo. The opening song takes no prisoners and ruthlessly obliterates anything thrown at it's way. Amidst high paced, briskly executed guitar wails and virtuosic solos, what attracted me was the back ground riff that forms the spine of the song. It is an extreme headbanger of a riff, totally compelling you to go insane something that is very inherent to the true core of thrash metal riffage. Midway the track also shifts gear to a mild filler and then revs it up back to everything fast. Great pounding skinwork from the drummer, absolutely ridiculous(of course in a good way) riffs, thunderous bass line and not to forget Joe's classic pissed off high pitch vocals. Total killer of a track to begin with!
The next track, which also has an official video out to its name, "As Life Slowly Fades" doesn't disappoint and follows suit in the path of nerve wrecking fast speed metal cacophony. You can check both the opening tracks videos below. Fourth track, "Broken Dreams In Isolation" is clearly one of my favourites in the nine song long album. Surprisingly, EVIL INVADERS has cranked up the knob on melody on this record a wee bit from their debut effort, which actually provides a stark contrast to the album. This is one such track, where the melody and the guitar harmony lays the foundation of it. This song is almost like an intriguing supposition as if Marty Friedman and Exodus had a baby. As much as perfect nostalgic old school melody coupled with frenetic riffing and drumming sounds weird and thought provoking at first, it does break the ice and proves otherwise when you listen to it. I mean it is atmospheric, melodious, hard rock-ish and at the same time the Dutch boys have incorporated speed metal monstrosity, now whose thirst wouldn't be satiated with an all in one kinda package as this song offers. Much of what the album resonates to be honest.
Now, this was already pre-planned. I am going to make this paragraph all about front man Jöe Anus, about how good  he is at what he does and why is one of the best modern thrash singers. I remember listening to EVIL INVADERS two years ago when their debut came out and I in a heartbeat yelled, "This is so Paul Baloff". And I mean it, Jöe's vocals are definitely raw and pissed off, sounding mean and that is what thrash is all about. He has this high pitched Paul Baloff, Rob Halford or early Mark Osegueda like screams or wails that could crack a glass pane or two which also gives off a certain Bay Area vibe to the band's sonic atrocity that they spew. What is also remarkable and worth appreciating is the wide spectrum he possesses as a singer. At one moment he would break out those mental high pitched screams, and on the other hand he would have his heavy and borderline growl at his disposal to complement both the variations of his vocal spectrum. His harsh vocals bring in the much needed contrast and hence not falling prey to staleness in the band's vital chemistry. In short, Jöe Anus is one of my favourite thrash vocalist in this modern day speed metal era. I bet his high pitched screams could bludgeon its way through the time and space fabric!
This album has everything you could ask for. Thrash anthems like the opening track "Mental Penitentiary", "Feed Me Violence", "Oblivion", "Anger Within" are nothing short of a sonic assault, it's like the wild raging bull that takes head on anything and destroys whatever hurled at it to the last morsel. Perfectly crafted speed metal that matches the rage and intensity of the 80s but also unique enough for one to compete with other heavy weights in this modern era. Then there is the other melodic, stripped down and harmonic sonic aspect to this album that has been meticulously woven on the main fabric of speed and thrash metal brutality, which is a beautiful contrast in my opinion. Tracks like "Suspended Reanimation" pave the way for much more melodic numbers like "Broken Dreams In Isolation", "Shades Of Solitude" and is a stark reminder that this band is well versed with their 80s metal. Guitar harmonies and melody, arpeggios struck in a skilled manner that evokes mesmerising euphonies to the listener's ears, thus also taking you past, back to the nostalgia that the band thrives on and is sonically inspired.
So will EVIL INVADERS' "Feed Me Violence" tickle your thrash buds? Oh hell yeah it will, trust me! Building on further from where old school speed metal bands like EXCITER, AGENT STEEL etc left, these four hot headed Belgians are doing it right. Championing their blend of speed metal with furious, lightning speed riffage, blistering solos that has the potential to set the fret board on fire by both the guitarists Jöe and Max. I would also credit Senne Jacobs for his hard hitting and immaculate drumming, with all the crazy double bass, and the pounding snare has taken, it surely has been a step up from the debut. Complimenting them are the thunderous bass lines by Joeri, be it a fast number or a rather slow one, he has truly shown his caliber and melded into the song. Production and mixing has been perfect, although I wish a tad bit of more drums would have been great, but then, that is just me.
I thoroughly enjoyed "Feed Me Violence" and am planning to get myself a copy of it for the mandatory weekly thrash worship. If you're fans of speed metal or thrash metal, and getting bored with sellout "thrash" bands then this EVIL INVADERS sophomore effort "Feed Me Violence" is your nostalgic solace. Now get on with your tattered denims and battle jacket and hop on the old school speed metal train, cause EVIL INVADERS is definitely not stopping anytime soon!
Pre-Order "Feed Me Violence" HERE!