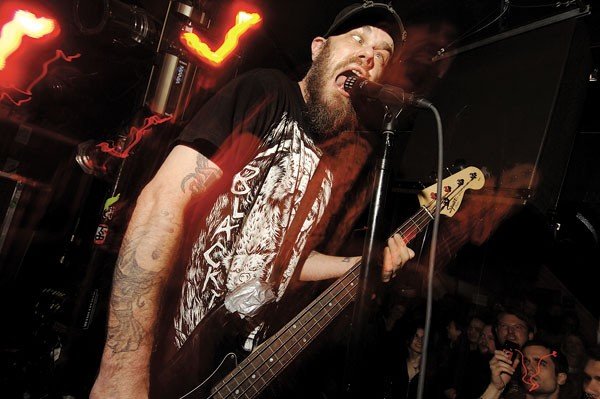 Weedeater was formed by front-man/bassist "Dixie" Dave Collins also formerly of Buzzoven. Following the release of their 2001 debut '…And Justice For Y'All', Weedeater immediately established themselves as a force in the U.S. tour circuit and quickly gained notoriety in the American metal scene. In the time since, the band have released three critically-acclaimed albums: 'Sixteen Tons' (2002), 'God Luck And Good Speed' (2007), and 'Jason… The Dragon' (2011), and toured around the world with the likes of Down, Saint Vitus, High On Fire, The Melvins, Hank III, and more. The band has played prestigious festivals such as Maryland Deathfest, Hopscotch Festival, Stoned From The Underground, Asymmetry Festival, Roadburn Festival, Hellfest, and many more. Weedeater has sludged their way up the ranks from a underground band with a cult following to one of metal's most sought after bands to see live. Frontman "Dixie" Dave is an all around entertainer when on stage with his puzzling looks and gravely pitch, combine that with the guitar shredding genius of  Dave "Shep" Shepherd and your night is bound to be a memory you won't soon forget. 
The Cape Fear, North Carolina metal tyrants Weedeater have announced a March U.S. headliner tour in which they will be supported by another North Carolina gem ASG, Toke, and Beitthemeans. Kicking off on March 6 in Savannah, GA, the band will hit nine Southern U.S. cities and will conclude the trek on March 16 in Columbia, SC. More dates will be announced. A full itinerary can be found below.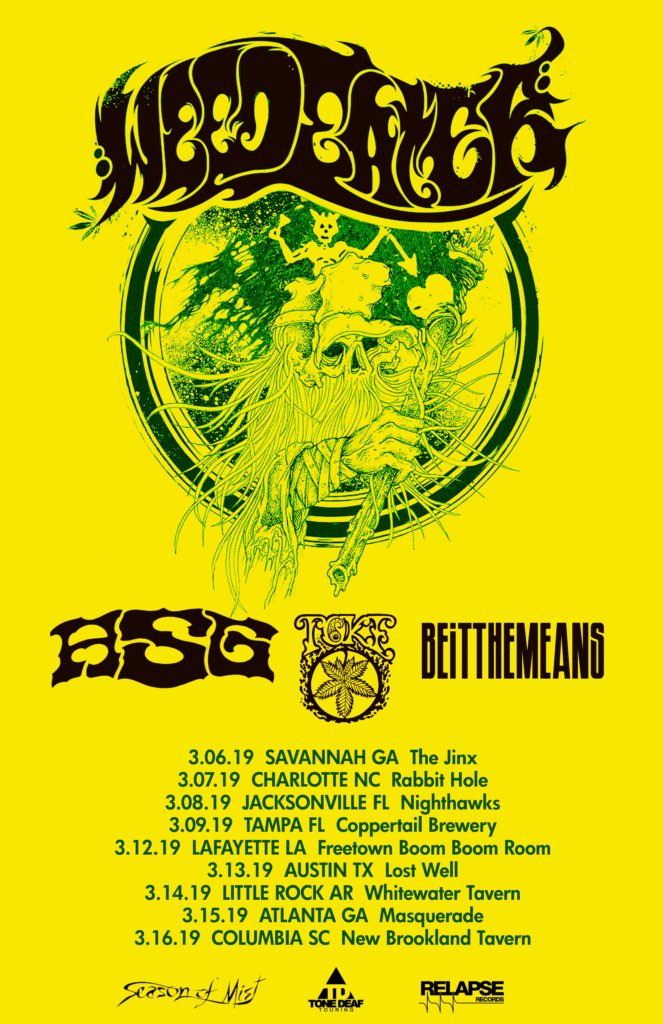 WEEDEATER Headliner w/ ASG, TOKE, + BEITTHEMEANS:
03/06: Savannah, GA @ The Jinx (tickets on sale Friday, Feb 8 at 12pm noon Eastern time)
03/07: Charlotte, NC @ The Rabbit Hole (TICKETS)
03/08: Jacksonville, FL @ Nighthawks (TICKETS)
03/09: Tampa, FL @ Coppertail Brewery (TICKETS)
03/12: Lafayette, LA @ Freetown Boom Boom Room (TICKETS)
03/13: Austin, TX @ Lost Well (TICKETS)
03/14: Little Rock, AR @ Whitewater Tavern (TICKETS )
03/15: Atlanta, GA @ Masquerade (TICKETS)
03/16: Columbia, SC @ New Brookland Tavern (TICKETS // EVENT LINK)
More dates T.B.A.!