Allegaeon is:
Riley McShane: Vocals
Greg Burgess: Guitar
Michael Stancel: Guitar
Corey Archuleta: Bass
Brandon Park: Drums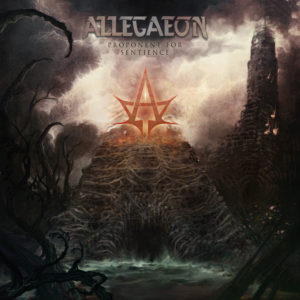 Being a huge fan of Technical Death Metal, I have been listening to Allegaeon since they released Fragments of Form and Function back in 2010. Simply awestruck. I continued to follow them through Formshifter in 2012 and Elements of the Infinite in 2014 as they progressively pushed the bounds of their craft. Their playing and songwriting abilities appear to have no limit. When given the opportunity to review Proponent For Sentience, due out September 23rd, 2016, I immediately got dibs before someone else snatched it from grasp. Thank goodness, because Proponent For Sentience is devastatingly good!