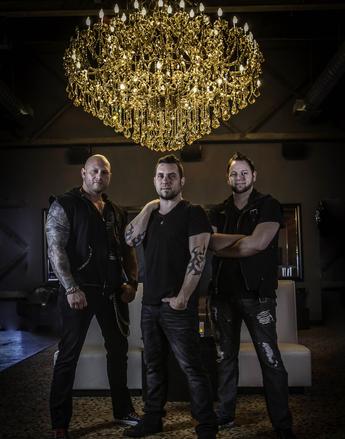 *This is part of our State Of The Art series, showcasing bands every Monday from the featured State*
                                                            This month's State is North Carolina!
Beyond the Fade is a band from Charlotte, North Carolina. They formed in 2006 under founder, Brandon Strickland. Current members, (Neil Jackson – vocals, Jason Tedder – guitar, Brandon Strickland, guitar), have been rocking the area and touring the country ever since. Having a heavy touring schedule, the band has seen numerous lineup changes, but the most notable was the addition of Neil Jackson on guitar and vocals in 2012. Beyond the Fade had previously played alongside his former band, so they knew it would be a good fit. In 2014 it was mutually agreed upon that Jackson would put down the guitar to become front man for the band. They're quoted as saying they felt it would give him a stronger connection with the audience. And, it seems that it has! They've played with numerous national acts, including North Carolina's Soften the Glare – fronted by bassist Ryan Martinie, as well as Skillet, Godsmack, and Motley Crew.