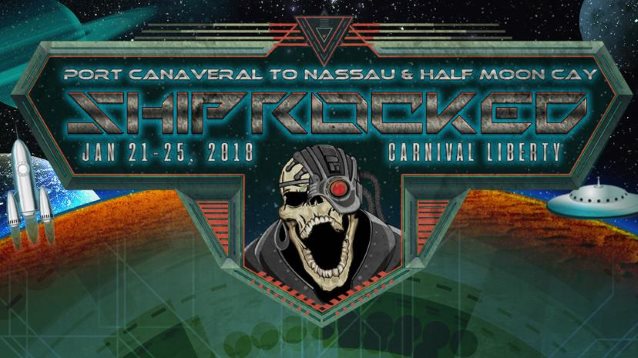 After having sold out in record time earlier for this year's ShipRocked 2017, featuring headliners BREAKING BENJAMIN, ALTERBRIDGE, SEVENDUST, PAPA ROACH and many more which was a hit, ShipRocked is back already with the first batch of headliners added to the list for next year's line up, i.e. ShipRocked 2018. Set to sail off from Port Canaveral, Florida to Nassau and the private island of Half Moon Cay in The Bahamas, this truly is "The Greatest Vacation On Earth" to every sense of the word. 
Here's what some of the bands are saying about this year's ShipRocked:
"Finally. We've been trying to make this happen for a long time. Now Stone Sour is joining the ShipRocked party – and WE HOPE YOU'RE ALL AS EXCITED AS WE ARE!! There's gonna be music, excitement, craziness and maybe – JUST MAYBE…somebody's goin' to get naked. Come join us on ShipRocked!!" – Corey Taylor, STONE SOUR
"We're really looking forward to being back on ShipRocked! We had a blast in 2016 and we intend to go even bigger on the next one!" – Shaun Morgan, SEETHER
In addition to STONE SOUR, SEETHER, IN THIS MOMENT, and BLACK LABEL SOCIETY, the otherworldly lineup for ShipRocked 2018 includes THE STOAWAYS, NOTHING MORE, STARSET, BEARTOOTH, NONPOINT, RED SUN RISING, SHAMAN's HARVEST,ARANDA, BADFLOWER, DED, HE IS LEGEND, ROYAL REPUBLIC, PALISADES, DOLL SKIN, and KALEIDO, with more to be announced.
Blasting off from Port Canaveral, FL, ShipRocked 2018—A ShipRocked Odyssey—is a once-in-a-lifetime getaway featuring nearly two dozen bands and gravity defying live performances, out of this world artist hosted events and activities, meet & greets, crazy theme nights, after hours parties and more. Don't miss this exciting holiday getaway from the busy and hectic life of yours. Tickets are out now!
The ShipRocked 2018 pre-sale is sold out. Remaining staterooms for ShipRocked 2018 will go on sale to the general public on Tuesday, June 20 at Noon ET here.