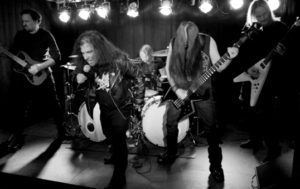 We've all heard at least a half dozen or more tropes about preservation, about finishing what we start, and about how anything worth doing is worth doing right, and approximately a thousand variations upon the same and similar themes.  The Swedish death metal band Sarcasm wants you know those important and oh-so-persistent lessons in life did not fall upon their deaf ears.  The core duo of the current quintet, vocalist Heval Vozarslan (also of Third Storm) and Anders Erikson have written and recorded together as Sarcasm since 1994. While an EP appeared in 2000, and along the way a bunch of demos, their material from that time did not see a proper full length release until 2016 on Dark Descent Records.  Yes, you read those last two sentences correctly. Less than a year after their proper debut, Sarcasm rounded out their lineup, bringing back Peter Laitinen on guitar (who previously played with the core in '94, also of Imperial Domain, The Hidden, ex-Goatworship), and fleshing out the rest with Jonas Soder (Imperial Domain, also ex-Goatworship) thundering along on bass and Matte Modin (Firespawn, The Hidden, and ex-Dark Funeral) taking on the role of beat master.  July of 2016 saw the release of their proper full length release 'Burial Dimensions', and, in breakneck speed as if making up for lost time, the sophomore effort 'Within The Sphere Of Ethereal Minds' is scheduled to drop on April 28th of this year.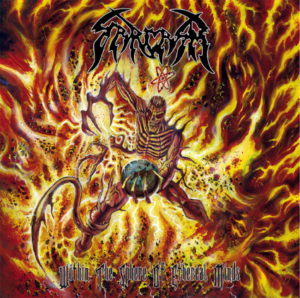 The boys waste no time getting down to business with the scorching opener dubbed 'Bloodsoaked Sunshine', which is precisely how I prefer my sunshine done, and rolls fast with no stop sign and no speed limit into track two.  Next comes 'Scars Of A Land Forgotten' which opens with a veritable onslaught of frantic and guitar shreds before moving into a slightly more safe (for those around you) melodic passage. Punctuated sharply and effectively ended by Bozarslan's piercing howls, that passage pivots sharply back to the starting point madness until the end. 'Embodiment Of Source' opens with a welcomed slower pace after the bone destroying franticness of the first two tracks.  An acoustic intro moves into a light guitar lead that eventually morphs into more familiar blackened death territory. The band keeps it fresh by alternating the time signatures, creating an effective and hard hitting mid tempo, complemented by both slower and faster passages that'll satisfy even the more divisive tastes of the listener.  Although only eight tracks in length, the clear standout for the entire album is #7 'Black Veil For Earth', an epic 8:31 passage that features a beautifully picked acoustic intro that slowly drops out as what sound like bells and pure ambient blackness move in, encroaching in a consuming manner.  Harsh growls cut through the music, giving it the feel of a predator letting their prey know of what is just around the corner, as the lead guitar crashes the party followed by a slow, dirty backbeat.  Vocalizations emerge in time with the acoustics once more before the entire band comes to life in a powerful way.  This song leans itself towards more melodic death territory, closely bordering on doom, but that's purely a compliment whenever a band can incorporate different styles into their work without losing their primary objective.  The album closes out with 'Drowning Light At The Edge Of Dawn', a satisfying end game to the sum of the album, and it features some of, in my humble opinion, the best fret and drum work as it's a non stop skin and riff fest which fades into the last vocals echoing and fading into oblivion. Overall, a thorough and satisfying album, 'Within The Sphere Of Ethereal Minds', should cement Sarcasm into the death and blackened death scene, as well as prove the old adage that anything worth having is worth waiting on.  Click on the lyric video below to get a taste of what the upcoming album has to offer:
Follow Sarcasm on Facebook here or check out their website by clicking here.