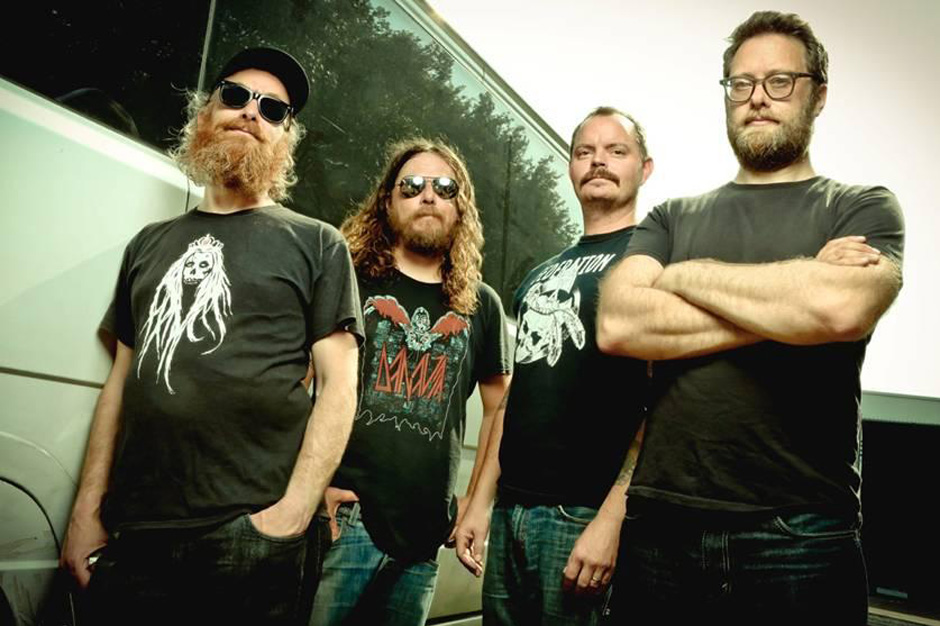 Stoner metal outfit RED FANG from Portland, Oregon has released another hilarious, comedic video titled, "Cut It Short", thus adding one more to their jovial jukebox of funny music videos, but yet true their musical propensities. This video is taken from their latest album 'Only Ghosts' released last fall among a lot of appreciation via Relapse Records. The album has ten amazing songs in it and has been produced by Ross Robinson (At The Drive-In, The Cure, Slipknot) and mixed by Joe Barresi (Queens of the Stone Age, Tool, Melvins). Nerdist dubbed Only Ghosts a "supremely excellent new album," Revolver said 'Flies' might be one of the heaviest and catchiest things the band has ever put on record" and Outburn called the release "swaggering" and "heavy but catchy."
This music video describes hilariously what goes inside a band, between band mates, all the silly things on tour to pin point perfection you can not deny. The video has been directed by Whitey McConnaughy, thus continuing the partnership that resulted in the genesis of the videos for "Wires," "Prehistoric Dog," "Hank Is Dead" and most recently "Shadows". The band plays their last North American date (May 26 at the Modified Ghost Festival II) before heading to Europe for a month of shows where they get to perform for you all at  Download Festival, Hellfest Open Air Festival,Graspop Metal Meeting, Roskilde Festival and many more. They resurrect back on American soil at Bumbershoot in September followed by a performance at Crucial Fest. Following are the tour dates,
May 19 – Columbus, OH – Rock on the Range
May 26 – Vancouver, BC – Modified Ghost Festival II
June 10 – Guilford, UK – Boileroom
June 11 – Donnington, UK – Download Festival
June 12 – Lille, France – L'Aeronef
June 14 – Orleans, France – Astrolabe
June 15 – Lyon, France – Epicerie Moderne
June 16 – Clisson, France – Hellfest
June 17  Dessel, Belgium – Graspop Metal Meeting
June 19 – Berlin, Germany – Lido
June 20 – Vienna, Austria – Flex
June 21 – Orfu, Hungary – Fishing on Orfu
June 23 – Saarwellingen, Germany – Saarmageddon Festival
June 24 – Scheessel, Germany – Hurricane Festival
June 25 – Neuhausen, Germany – Southside Festival
June 28 – Roskilde, Denmark – Roskilde
June 29 – Nimjegen, Netherlands – Doornroosje
July 1 – Pratteln, Switzerland – Fuzz Jam Festival
July 5 – Biarritz, France – Atabel
July 6 – Viverio, Spain – Resurrection Festival
July 8 – Barcelona, Spain – Razzamatazz 2
July 9 – Ile du Gaou, France – Pointu Festival
September 1 – Seattle, WA – Bumbershoot
September 2 – Salt Lake City, UT – Crucial Fest
Order your copy of 'Only Ghosts' here.