Bands form for a lot of reasons and have limitless paths to success. Growing up surrounded by musicians and naturally forming a band, churches or other like groups that need music, studio players or substitute band members that are taken on tours with bands they have recorded with and kept for one extenuating circumstance or another; the list goes on and on. Sometimes a band's story is as good as their music. Such is the case with a completely sick band called Psychoprism out of New York/New Jersey.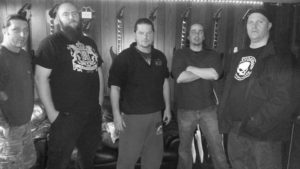 Admittedly a troll within Metal groups, I constantly keep my eye out for bands that I like. New material to cover and enjoy listening to is always a plus. Recently, I was casually going through my media threads and Psychoprism caught my eye. They were promoting an upcoming album release with a new video offering as a teaser. Cool album cover and describing themselves as Heavy Modern Power Metal, I was immediately game and clicked away. I was not quite prepared for how damned good this band is, but I digress…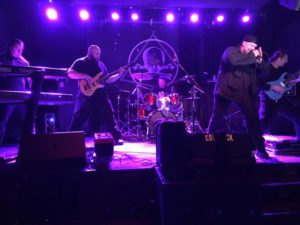 Once I decided to cover Psychoprism and did some research, it became very obvious why they are so good. Turns out Psycohprism was formed in 2012 after New Jersey singer Jess Rittgers answered an ad placed by Power Metal shredder Bill Visser on Craigslist. After some initial back and forth, Bill sent Jess a rough guitar track recorded on top of a drum machine. Upon his completion of his vocal tracking in less than a week, Bill took down his ad, confident enough that he had found who he was looking for. Once this dynamic duo met in May of 2012 and recorded what would become their first single entitled "Defiance", they sent it out via thousands of emails in an effort to promote their dynamic and to continue building the band. Drummer Kevin Myers was picked up after relentlessly showing up for auditions to substitute for the drum machine. When later asked if he was their drummer in the parking lot, he enthusiastically stated he was. Done deal. Three down, two to go. Hailing from San Antonio, TX, Adam Peterson auditioned via email with what would become another Psychoprism single "Against the Grain". So impressed with the track Jess woke Bill at two in the morning and forwarded it to him. According to their bio online, Bill told Jess that "[h]e nailed 95% of the harmonies by ear, we can't lose this guy! So Jess texted Adam back at 2:20am while walking his dog, and Adam was in". He packed up his truck and drove half way across the country to make the band's photoshoot. There's dedication for you. The final piece of the Psycoprism puzzle was Erick Hugo on bass who was added in December of 2015. A life-time lover of all things Power Metal, he completed what remains the lineup for Psychoprism. A cool and unique story, to be sure but resulting music is even cooler.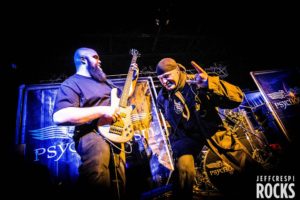 Great individual musicians a great band does not make. There has to be a chemical wizardry at work to create material at the impossibly high standard Psychoprism does. Let's start with the guitar skills Bill Visser offer. He has been playing guitar since he was a teenager after seeing a Kiss video, buying a guitar, taking lessons and getting hooked into the Neo Classical style of The God of Shred, Yngwie Malmsteen. He has played in a number of bands, most notably Operatika, where he wrote their first album and toured Europe with until 2011. His playing is on the extreme side of technical with rail gun speed, accuracy and a perfect sense of flowing song movement while still remaining expressive and soulful instead of sterile and flat. He pulls no punches, however. His is the sound that should inspire the next round of young guitarists to carry the Power Metal torch well into the future. In perfect harmony with Bill's guitar is the five octave (you read that correctly: 5/8th of a piano range!) vocal range of Jess Rittgers. Formerly singing in Jazz Fusion bands and giving vocal instructor Lisa Von–Goerken technical credit for his powerful pipes, Jess adds a depth that is so remarkable, you will have to hear to understand. Having a timber similar to vocal giants like Todd La Torre, Sean Peck, James LeBrie and ZP Theart, Jess would overpower just about any other band with his otherworldly range, feel and timing. I cannot put into words how impressive this man's voice is without getting all stupid and rambling. Suffice it to say that the man has a gift. Also writing the lyrics for Psycoprism, Jess writes introspectively in an effort to "open a 'Pandora's Box' that which truly suggests a Mythology of it's own." Too talented for his own good, in my humble opinion. Continuing in order of band membership, drummer Kevin Myers has been drumming for over 26 years. Former bands include Malaki, Shadow Road, Rattlebone, Gothic Knights and Cypher Seer where he has played with the likes of Savatage, W.A.S.P., BOC, Sepultura, Great White, the almighty Motorhead and many others. As expected, he is as good a drummer as Bill is a guitarist and Jess is a vocalist. Complexity to spare and feel are where Kevin truly excel, creating a fitting rhythmic foundation for other band members while slipping solo-worthy parts in as bridges between technical music movements instead of just as a breakdown. Uniquely brilliant; simply genius. Speaking of genius, the keys of Adam Peterson adds to Psychoprism's signature sound that would be lost without his presence and talent. Classically trained in College Station, TX, Adam began piano at the ripe old age of seven years old. By twelve he became accompanist for various UIL competitions which later allowed him to earn multiple scholarships and awards that put him through college. His keyboard skills are off the charts and often used as counterpoint to the Bill's guitar work which create an unusual, polymorphic sense of complex time I have not heard done at this level. I am yet to get my feeble head fully wrapped around this. Regardless, it is memorizing and beautiful to listen to. Last to join this deep pool of talent was Erick Hugo. With influences ranging from Chris Squire, Jaco Pastorius, James Jamerson, John Entwhistle, John Paul Jones and Mark King, you expect greatness, and get it. Erick pounds out bass lines faster than most guitarists play leads and, with the drums is the glue that holds Psycoprism's rhythm from flying off into oblivion and makes the sound accessible to mere mortals like myself. Maybe it's the only thing I can get my head partially wrapped around, I don't know. Taken as a whole, this is some of the most pleasurable music to listen to no matter what perspective one chooses to take: as a technical exercise or as the life-blood running through our veins that keeps music lovers like myself sane and grounded. Moving and inspirational in every aspect; performed at a level few would be able to achieve. This is what Psychoprism gifts the world with.

Psychoprism released their debut, four song EP entitled "Bloodlines" in 2014 containing "Defiance", "The Wrecker", "Stained Glass" and "Further Than You". With a CD release party scheduled for their brand new release of Creation on the Pure Steel Record label is scheduled for September 17th but can be purchased on their website below. I have already bought mine and cannot wait to hear the new tracks including "Alpha", "Creation", "Shockwaves", "The Acclaimed", "Chronos", "Friendly Fire", "Against the Grain", "Defiance", "The Wrecker" and "Stained Glass 2016" (See the video below for a teaser!). Bar none, this is one of the best bands you can listen to and invest in for many assuredly years to come!
All the goodies on Psychoprism can be found at: Web  Facebook  Twitter  ReverbNation  Soundcloud  BandCamp  Pure Steel Records