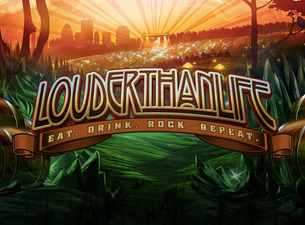 Louisville, Kentucky's Louder Than Life festival has become one of the premiere events of the year. With the bourbon flowing, celebrity chefs and the additional experiences that Danny Wimmer Presents brings to town it creates a buzz that draws fans from around the country. For the past 3 years die hard attendees known as Loudmouths anxiously await the moment they finally know what bands will be performing at the festival. Through the years the we have seen such headliners as Judas Priest, Kid Rock, Slipknot, Disturbed, Lynyrd Skynyrd, Godsmack and more. The wait is over and the lineup has finally arrived for 2017's Louder Than Life Festival!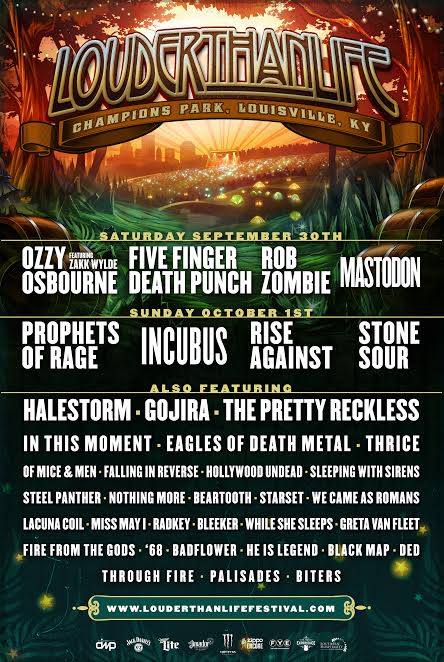 This years lineup welcomes back some Louder Than Life alumni as well as some new headliners to the festival. Among the Saturday headliners, Five Finger Death Punch, Rob Zombie and Mastodon have graced the stage of Kentucky's largest rock festival. Of course Ozzy Featuring Zakk Wylde is new to the festival and this far only the second date featuring the pair together. (The other being Chicago Open Air) Rob Zombie headlined the festival in 2015, Mastodon and Five Finger Death Punch graced the stage in the inaugural year in 2014. The Sunday headlining bands are new to the festival, and some haven't played a lot of festivals recently. Prophets Of Rage features the former members of Rage Against The Machine, but rather than original frontman Zack De La Rocha at the mic they have Chuck-D (Public Enemy) and B-Real (Cypress Hill). Prior to them headlining Sunday night we also get Incubus. Formed in 1991 the band and has sold over 23 million albums. Incubus was a force to be reckoned with in the late 90's and early 2000's. Rise Against is another newcomer to the festival, but not new as a band. The Chicago natives have songs that will easily stick with you and their album 'The Sufferer & the Witness' (2006) is a fan favorite. Stone Sour isn't new to anyone. Vocalist Corey Taylor has performed at Champions Park with his other band, you may have heard of them…Slipknot? The bands brand new album 'Hydrograd' releases on June 30th, their first album in 4 years. This will also be a great chance for you to see Corey Taylor unmasked at the mic.
Of the non-headlining bands a couple of them once made the lineup but had to cancel. Of Mice & Men were slated to play the festival in 2015 but had to cancel due to then frontman Austin Carlile's battle with Marfan Syndrome. In 2016 The Pretty Wreckless were suppose to play but at the last minute were replaced by I Prevail. Now is a chance to see these bands come back and perform. In regards to the remaining bands there are several that you must see. Eagles Of Death Metal led by eccentric front man Jesse "Boots Electric" Hughes puts one one of the most entertaining performances I've seen in years. Thrice is not new by any means but with their comeback hit "Black Honey" everyone is sure to be singing along to that song as well as some of their older hits. Another veteran of the Louder Than Life stages is 68′ who played an early set last year. They are a two man band which includes vocalist Josh Scogin, formerly of the hardcore band The Chariot. They may only have two members but their sound is huge…. do not sleep on this band. When it comes to newer up and coming bands we have quite a few of them. Fire From The Gods and DED both put on phenomenal performances at this years Carolina Rebellion festival. They aren't just bands you want to see once, but over and over again. Another band that has to be mentioned is Through Fire, the band just released a deluxe edition of their album 'Breath' which includes a must hear cover of the song "Jar Of Hearts" by Christina Perri. They turned this pop song into a metal masterpiece and I certainly hope we get to hear it live. We certainly hope some of your lineup wishes came true because some of ours certainly did. See you in October Loudmouths!
Get your tickets today here!