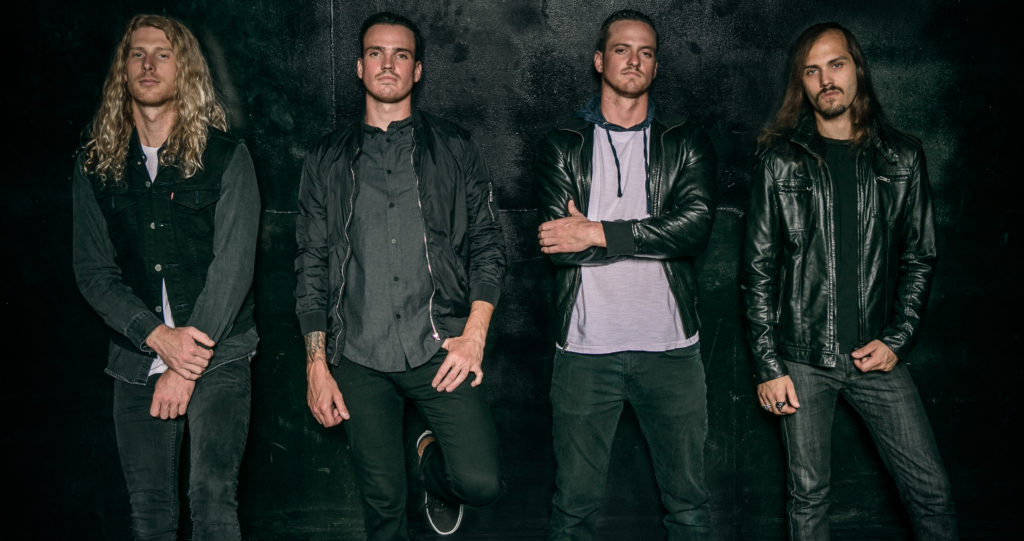 Today we bring to you an exclusive Metal Nexus premiere of Los Angeles based 'dub-metal' group, TEMPTING FATE's all new music video, 'Eminence'!
Talking about band names and the story that goes behind it in naming so, a lot of band name themselves after their inspirations, some like to dig up the hardest word possible and just stick it to form a 'super-word' if I may says so or some bands just put up a simple name. But here is a cool story and a nice one to reflect upon every time you hear TEMPTING FATE blaring loud through a speaker. TEMPTING FATE was formed in Los Angeles, CA by two like minded brothers, Cory(vocals) and Shane Beecher(guitar/keys) in 2010 out of their passion for rock and roll.
Born and raised in Redwood City, CA, Shane and Cory were constantly back and forth between Los Angeles and the San Francisco Bay Area. It was on one of the many trips back and forth that they came up with the name "Tempting Fate".
After many instances of cheating death and avoiding disasters they felt that they were constantly tempting their own fate and decided it would be a very appropriate band name. "I remember one of the most notable times, we were towing a big double axle 14 foot trailer down to LA in the pouring rain, when suddenly, something slammed into the back of my truck. It was the trailer…it had somehow come off the tow hitch, slammed into the back of my truck and then continued to whip back and forth while only connected via the safety chains. It was not a very pleasant experience. 10 minutes later, it happened a second time." –says vocalist Cory Beecher.
Soon after both the brothers would go onto write and record songs with fellow Musicians Institute friend and engineer Julius Callahan, which would later become their debut album 'Pushing Through'. As soon as the album was done, they started to put the band together with MI students and Craigslist hopefuls, bassist Matt Campbell and drummer Alex Rivas were their finds from there. Just like any other new band, trying to get the word out and let some limelight come their way, they started rehearsing hard and performing on any shows they would find in the Los Angeles area and the bay area of San Francisco. What would from here go on to be known as Dub Metal, an epic and extra-ordinary amalgamation of Electronic Dubstep and Metal, the band started to work on their new album, 'Hate Nation'. This made people take notice of the outfit and they eventually went on to play more famous venues such as the Whisky, Viper Room, The Roxy, and other smaller venues in Sunset Strip, leading to a spot on the Sunset Music Festival in 2012 alongside big names like Offspring, Bad Religion, Black Label Society, Marylin Manson, and Steve Aoki.
Their next venture would be more of a heavier approach. 'Illusions' which was an April 2014 release was a full on metalcore album, featuring eight songs in total. "We wanted to do an album reminiscent of the music that got us hooked in the first place. We grew up listening to Avenged Sevenfold, Atreyu, Darkest Hour, and Underoath and we wanted to do something similar but with our own style. We wanted it to be heavy, extremely heavy, yet with very catchy choruses." – says guitarist and vocalist Shane Beecher.
After the release of 'Illusions', the band began playing shows to promote the album. "We found it a lot more challenging to promote such a heavy album but nonetheless we were determined!. The album garnered a lot of attention with over 6500 album downloads. But soon, the promotions and the entire band would be thrown off track with the untimely sad demise of Shane and Cory's older brother Jesse Beecher. "When that happened, we just completely fell off the map. We didn't even know if we wanted to continue with music; being far away from family was hard and writing new material was just too painful. We took a lot of time off, spent time with family, and just focused on healing and maturing. Once the clouds started to clear we knew our brother would want us to follow our dreams and not give up, so we began working on 'Catharsis'". But that would not stop TEMPTING FATE from creating further mind numbing music. Now as they hit back fueled with a renewed dose of adrenaline rush, TEMPTING FATE has set out what they originally pledged to do. That is rule the world with some death defying heavy music!
Loaded with massive breakdowns, atmospheric sections that weaves through the low pitched ghastly vocals, and swiftly executed orchestral symphonic harmonies, 'Eminence' is definitely a landmark on the face of metalcore music. It breaks traditional barriers and engages the listener in an atrocious serenity. Truly "cathartic"!

"Eminence was one of the first songs written for this album. It's about sacrifice and what you're willing to give up for success. Everyone can relate to missing out on good times to achieve a bigger goal!" – Shane Beecher
Check out the all new music video for 'Eminence' that is a part of their brand new album 'Catharsis', which just came out over a month ago, on July 21. The album sounds great and surreal. Don't forget to check out the rest of the album HERE and get yourselves a copy of the same HERE!