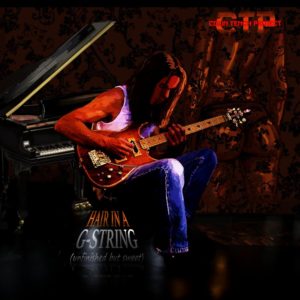 A domino falls and strikes another, causing a chain reaction that continues until there are no dominoes left to fall. Such is the case with this review of Hair in a G-String (Unfinished but Sweet) by the U.K. artists in the Colin Tench Project. Mr. Tench is also known for his work with Corvus Stone and, wait for it, Coalition. There it is! The first domino! After recently reviewing Coalition's spectacular new release, Bridge Across Time, I was offered a listen to Colin's solo project, which is due for CD release on the 28th of November. Refuse new music that is related to a newly found gem? Nah, I'll pass… Yeah right! Keep believing that! Hell yes I am interested. In a single listen, I was sold. Killer guitar? Check. Good song-writing skills? Absolutely. Entertaining? In freaking spades and in a manner few albums have been able to. So, as he so eloquently puts it on his website: "Who the hell is Colin Tench?"
Colin is a Progressive Rock guitarist and song writer that loves the music, hates the genre title (a man after my own heart!). Being a fan of Genesis, Frank Zappa, Steve Wilson, Beethoven, Pink Floud and countless other bands and forms of music, he refuses to write to a genre, instead choosing to write music that resonates within his own broad sense of musical influences; which just happens to generally fall under the accepted moniker of Progressive Rock. Colin started out in a band called Odin with John Culley (Black Widow, Cressida) which played throughout London for about three years in the eighties. By 1985 the band added a vocalist from L.A. and formed BanChakeze who recorded one album that was not released until 2010, at which point Tench made his return to music. Since then he has been involved with a number of acts that have also included Loreliei McBroom from Pink Floyd, Zoltan Csörsz Jr from Flower Kings, Blake Carpenter, Gary Derrick and Cliff Deighton of Odin, Stef Flaming of Murky Red and Oceans 5, Saga's Michael Sadler, John Moulder and Joe Vitale (Joe Walsh, Eagles, CSNY, John Lennon, etc.). Impressive, to say the least.
Great. Paper, experience and theoretical book smarts a good musician and/or song writer does not necessarily make. Fear not, because Hair in a G-String (Unfinished but Sweet) is fabulous. With a spine rooted in the classic sounds of traditional, Progressive Rock, CTP's sound is bolstered by connective tissues and bones of Classical, Funk, Blues and Jazz, making for a sinuous, efficient and rhythmically complex ride. Polymorphic tempos played by various instruments create accessible songs out of extremely difficult music. Tench also chooses a certain sense of frivolity over any form of pretense. Float away with the music one minute, laugh out loud the next. This is the magical madness of CTP! With not one dull moment on this sixteen song, free-ride spanning some 82 minutes the listener is welcomed to a world of musical wonder, Monty Python-esque dry humor and astounding variety.
"Hair in a G-String Part 1 (The Opening)" kicks off this whirlwind with softly play acoustic guitar and keyboards that picks up with intermittently played electric guitar for a rather whimsical feel. The tension builds with harmonized and somewhat sadly played guitar that drives into 80s type, saxophone break, ending abruptly before the balloon of climax pops. In stark contrast, the Bluesy and fun love song, "Can't See It Any Other Way" begins. Tench, admitting that the Beatles White Album would be his choice for the "ideal album" definitely shows its influence on this tune's structure, content and vocals. "Hair in a G-String Part 2 (The Hairy Part)" (these titles slay me!) follows with a subdued sound that goes into a stuttered rhythm and a frenzy of acoustic and electric guitars. Transitioning into a sort of Caribbean, Blues/Jazz style ditty and then to a Santana-like screamer that feels like you are at a kegger in Rio. Before the outro, things slow down, adding 40's style Jazz horns, hearkening back to the days of Casablanca. With a somewhat dissonant tone, beautiful acoustic guitar played under sustained, single chord electric guitar opens "The Mad Yeti". Almost sounding like a Classical guitar piece on steel, a panoramic landscape is laid out before the listener. Playful and upbeat, flute takes us over rolling hills to follow the setting sun over the horizon at song's end. Gorgeous tune! Continuing with the South American theme, "The Sad Brazilian" opens with mildly ominous acoustic and electric guitars that is followed by piano and soft violin. The addition of simple, yet effective acoustic guitar paints a beautiful musical picture before a quick pause followed by a full orchestra and screaming guitars. Dramatic like much of the Prog Rock from the 70's, a very cool point/counterpoint is created with tempo and aural form. An emotional switch is thrown as revelation strikes with the sounds from a serial mystery. With the sound of careful reflection, we are quickly transitioned to my favorite song "And So, Today". Slow and sad, bad news slowly overwhelms. Becoming more desperate at the loss of Mr. Jones, assurance that his music will live onto eternity becomes the theme of sanity. In an effort to keep the music in the forefront, not overpowered by the content, Tench cleverly and subtly hints at the deaths of four legends earlier this year. An incredibly emotional song that can easily elicit tears when deeply listening. Up next "Hair In a G-String 3 (I'm Going Down)" begins as a European Blues ballad that turns into a bouncy and fun, almost Vaudevillian showpiece with subtle and not-so-subtle humorous undertones; maybe even as a drunken English pub chant. With the cool combination of a wide variety of instruments, guitar riffs, the song ends in a cacophony of whispers and properly, rough played Blues virtuosity. Building quickly from a Jazz based intro, "Lisa Waltzed Back In With No G-String" opens into a wide, polymorphic beast, again with full orchestration and guitar solo that playfully belly dances in front of the listener's eyes, exiting, stage left, Film Noire style. Cagey and unique, to be sure! "Lisa's Entrance Unplugged" continues with lovely acoustic guitar and flute that gives the song a feel of innocence and whimsy. Complex tempos are overlaid on the song's foundation before everything melds onto a single path to the end. A very clean song with unbelievably complex rhythms made to sound so easy. This is the genius of Mr. Tench! "Something Old, Something New, Something Borrowed, Something Screwed" (another great name!) is next. Again following in the footsteps of the Beatles, the intro explodes into heavy percussion and screaming guitars that eventually trade leads. We are taken to the Dark Side of the Moon followed by an interlude of showy drums before dropping back a notch. With the sound of a sarcastic love song, musical references tie us back to "Can't See It Any Other Way" before fading to black in romantic disharmony. With the polymorphic genius that is spotlighted so often on this album, "La Palo Desperado" has a predicable tone based on name alone. Being a broad and uniquely engaging soft serenade, this one breathes tension and release. A musical argument ensues that is answered with calm reason. As the musical conversation continues, a Pink Panther reference is made followed by a comedic, Keystone Kops fall. "A Beautiful Thing" is upbeat, with the soulful vocals common in an early 70's love song vibe. Being an old dude, I immediately flashed back to family vacations, listening to songs like this in my dad's, bright green, Volkswagon Beatle. A cool song with very traditional musical flow. Being one of the shortest songs on this release, "Dnieper Summer Day" is one of those head-bobbing tunes with great use of staccato rhythms. Short, but oh, soooo sweet. Let the zaniness begin! "Part 4b" is laugh out loud funny. With seemingly incoherent direction (or song name), random lyrics are sung or spoken. With the enormity of Queen, we are treated to an intermission of unhinged music, played by an array of instruments and more ridiculousness lyrics. Keeping the song somewhat cohesive, impressive guitar pulls the song into focus about ¾ of the way through. With orchestral accompaniment, stellar guitar playing is again met with the song having no real name and a promise to someday return. Almost as a conclusion to "Part 4b", "Part 4b Redux" concludes the album with cartoon foolishness and dainty mouse farts, seemingly from Disney's classic Cinderella. But wait, there's a bonus track! "Lisa's Waltz" is an orchestral arrangement that (to me anyway) tells the story of Cinderella. Huge in sound, innocence is challenged by the wicked step sisters before the White Knight comes to save the day. With longing and desire, the romantic pair are forced into the shadows before an enchantment ends in tragedy. While the solution is discussed, the song ends as a mystery.
Interest piqued? I thought so. What CTP has accomplished here is really incredible. Easy to listen to music with, at times, virtually impossible rhythms played effortlessly and interspersed with all types of styling, instruments and a touch of madness for fun. Colin Tench so obviously loves music and still finds it fun and engaging. I cannot imagine that one moment of time creating this album was work for him or any other of the talented musicians playing on Hair in a G-String (Unfinished but Sweet). As I see it, life is too short to do something that makes you miserable and the Colin Tench Project reflects just what happens when you love what you do!  Way too much damned fun!

Music and lyrics by Colin Tench, except the following:
"Can't See It Any Other Way" & "A Beautiful Feeling": Lyrics – Phil Naro
"Hair in a G-String Part 1": Music Tench/Gresswell
"The Sad Brazilian": Music Tench/Bennett
"A Beautiful Feeling": Music Moulder/Tench
"Dnieper Summer Day": Music Knokey/Tench
"Part 4b Redux": All Peter Jones!
Tracklist and Credits for Hair in a G-String (Unfinished but Sweet):
1. "Hair in a G-String part 1 (The opening)" [6.25]
Peter Jones: Vocals, Saxophone
Colin Tench: Guitars, Piano
Steve Gresswell: Piano, Keyboards, Percussion
Petri Lindström: Bass guitar
Stef Flaming: Percussion
2. "Can't see it any other way" [4.36]
Colin Tench: Guitars, Synths
Phil Naro: Vocals
Gary Derrick: Bass guitar
Marco Chiappini: Piano
Victor Tassone: Drums
3. "Hair in a G-String part 2 (The Hairy Part)" [6.04]
Colin Tench: Guitars, Synthesisers, Drum programming
Phil Naro: Vocals
Steve Gresswell: Keyboards
Stef Flaming: keyboards
Oliver Rüsing: Drums, Percussion
Petri Lindström: Bass guitar
Stephen Speelman: Stunt bass
4. "The Mad Yeti" [2.54]
Colin Tench: guitars
5. "The Sad Brazilian" [7.19]
Colin Tench: Guitars, Piano
Gordon Bennett: Orchestra, Shaving cream
Petri Lemmy Lindström: Bass guitar
6. "And So, Today" [4.12]
Pete Jones: Vocals, Clarinet
Colin Tench: Guitars, Piano, Percussion
Gordon Bennett: Orchestra
Petri Lindström: Bass guitar
Jay Theodore McGurrin: Drums
7. "Hair in a G-String part 3 (I'm Going Down)" [10.09]
Peter Jones: Vocals
Colin Tench: Guitars, Synthesisers, Piano
Gordon Bennett: Orchestra
Petri Lindström: Bass guitar
Oliver Rusing: Drums
Steve Gresswell: Keyboards
Angelo Hulshout: Fretless Bass
Sonej Retep: Sciryl lanoitidda
8. "Lisa waltzes back in with no G-String" [3.53]
Colin Tench: Guitars
Gordon Bennett: String Section, Horns, Basses
Petri Lindström: Bass Guitar
Robert Wolff: Drums
Pasi Koivu: Synthesisers, Organ
Sean Filkins: Tamborine
9. "Lisa's Entrance Unplugged" [3.09]
Colin Tench: Guitars, Synthesisers
Ian Beabout: Flute
10. "Something Old, Something New, Something Borrowed, Something Screwed" [7:32]
Colin Tench: Guitars, vocals, Percussion, Piano
Gary Derrick: Bass guitar
Marco Chiappini: Keyboards, Piano
Victor Tassone: Drums, Percussion
11. "La Palo Desperado" [5.54]
Colin Tench: Guitars, Annoying noises
12. "A Beautiful Feeling" [5.58]
Phil Naro: Vocals
Colin Tench: Guitars, Piano, Percussion
Petri Lindström: Bass guitar
Gary Hodges: (Buckingham Nicks): Drums
Kelly Brown: (Ozark Mountain Daredevils): Keyboards
Vic Tassone: Percussion Violins: (String Section)
Tina Sibley (Springfield Symphony)
Kirsten Weingartner (Springfield Symphony)
Ned Horner (Springfield Symphony)
Aleksis Zarins (Springfield Symphony)
13. "Dnieper Summer Day" [1.38]
Colin Tench: acoustic guitars
David Knokey: Rhythm Guitar
Stef Flamming: Bass guitar
14. "Part 4b" [7.56]
Peter Jones: Lead Vocals
Phil Naro: Lead Vocals
Colin Tench: Guitars
Gordon Bennett: Orchestra, Percussion, Triangle, Thing that goes boing
Petri Lindström: Bass guitar
Angelo Hulshout: Fretless bass
Jay Theodore McGurrin: Drums (We fired Neil Peart)
15. "Part 4b Redux" [0.23]
Peter Jones: Piano
Peter Jones: Main vocal
Peter Jones: Backing vocals
Peter Jones: Foley guy
Peter Jones: Production
Colin Tench: Bugger all
BONUS TRACK: "Liza's Waltz" with full orchestral arrangements [4.23]
All instruments, arrangements & Production by Gordon Bennett. Based on the original "Lisa's Waltz" by Colin Tench
All Artwork by Sonia Mota
More information on the Colin Tench Project can be found on Corvus Stone  Waters Records  BandCamp  YouTube