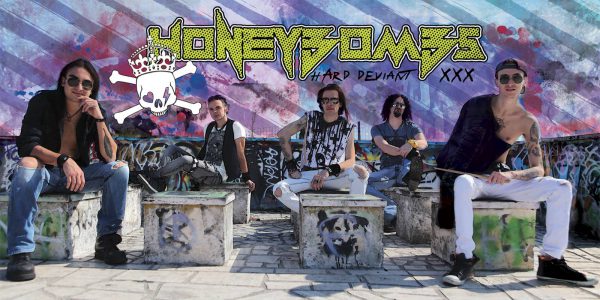 "Let's do the Time Warp again!" You don't even know how much I love stumbling on these new bands that sound like they're from a generation I really wish I hadn't missed. HoneyBombs sound like a mix of all of the best 80's hair metal bands and it's the reason I enjoyed listening to their album straight away.
HoneyBombs are a sleaze/glam metal band from Rome, Italy. They started in 2012 and have released their debut album in April, titled 'Wet Girls And Other Funny Tales.' Now it may seem strange to take nearly five years to get an album out for the world to enjoy, but I assure you the time had to have been spent perfecting their sound. The vocalists' sound fits with the bands' well and while you wouldn't think that would be a major find in a band, well, you'd be surprised. HoneyBombs' talents are Andrew "The Eagle" Skid on lead vocals, Alex Rotten and Helias Marson on guitars and vocals, Luke Vanilla on bass and Fabulos Fab on drums.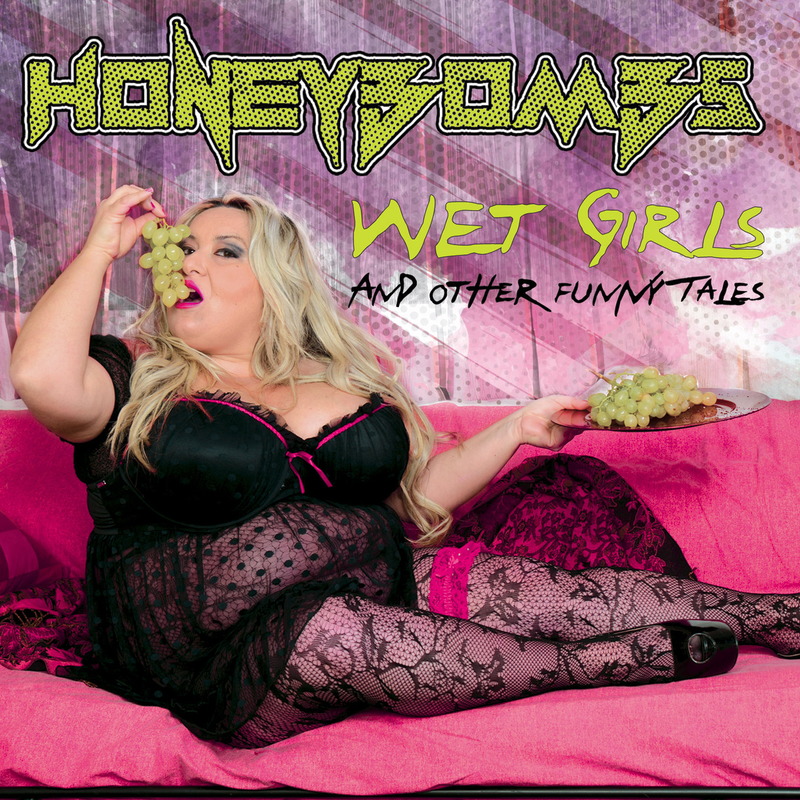 'Wet Girls And Other Funny Tales' is a full length album with 11 tracks of sleazy hard rock greatness produced by Time Collapse Studios. It starts with "Radical Shit." Immediately you get the 80's hard rock feel from their overall sound. It just screams hair band. Following "Radical Shit" are the tracks that best answer the question, where is the sleaze? Even the names "Brazzersdotcom," "Fat Girls Are Goin' Mad" and "G.R.A.B. (GhettoRatchetAssBitch)" are sure to make you feel some type of way. "Brazzersdotcom" includes lyrics describing someone as being their dream come true, because you let them grab, err your chest? Yeah, we'll go with that.
I think the next track, "Don't Wanna Be Like Johnny," may be my favorite on the album. It starts with a beat perfect for audience participation, which I love hearing in a song. Singing along with the title might prove to be fun if I ever see them live too. It starts out as a glam metal sounding song but the last minute nods to the groups' Swedish metal influences. The tempo changes up and they switch to harsh vocals. And my favorite- high speed kick pedal use. Love it. Plus, as if that weren't enough, this particular track can be downloaded for free online from ReverbNation. What's not to love about it?
My next favorite might be "Sweet Little Dummy." It has a lot of piano presence that would put you in the mindset of another of their influences, Guns N Roses. It's pretty, kick-ass, and still keeps to the bands' sound without seeming like too far of a venture for the group. The album ends with a track any band like HoneyBombs would need- a metal cover of a popular 80's song. HoneyBombs went with Michael Sembello's "Maniac." I love the drum intro, the vocals, the guitar… Well, maybe it'd be easier to say I even prefer the cover to the original.
I already told you I've got a little extra love for new bands that can actually sound like anything I used to watch on VH1. HoneyBombs do it really well. I love the way the band has their sound set, no one member is more present than the other, they all mesh well and it suits them to do it that way. I think I'd love it even more if their live shows proved anything like a show from the 80's too. My point being- check them out! Grab "Don't Wanna Be Like Johnny," judge their "Maniac" cover, and give Wet Girls And Other Funny Tales a listen!
-Chayotix
Wet Girls And Other Funny Tales track list:
Radical Shit
Brazzersdotcom
Fat Girls Are Goin' Mad
G.R.A.B. (GhettoRatchetAssBitch)
Don't Wanna Be Like Johnny
Till The Night Is Over
We Are Gonna Kick Your Ass
Oh My God!
Sweet Little Dummy
Six Pack On Your Back
Maniac (Bonus Track)