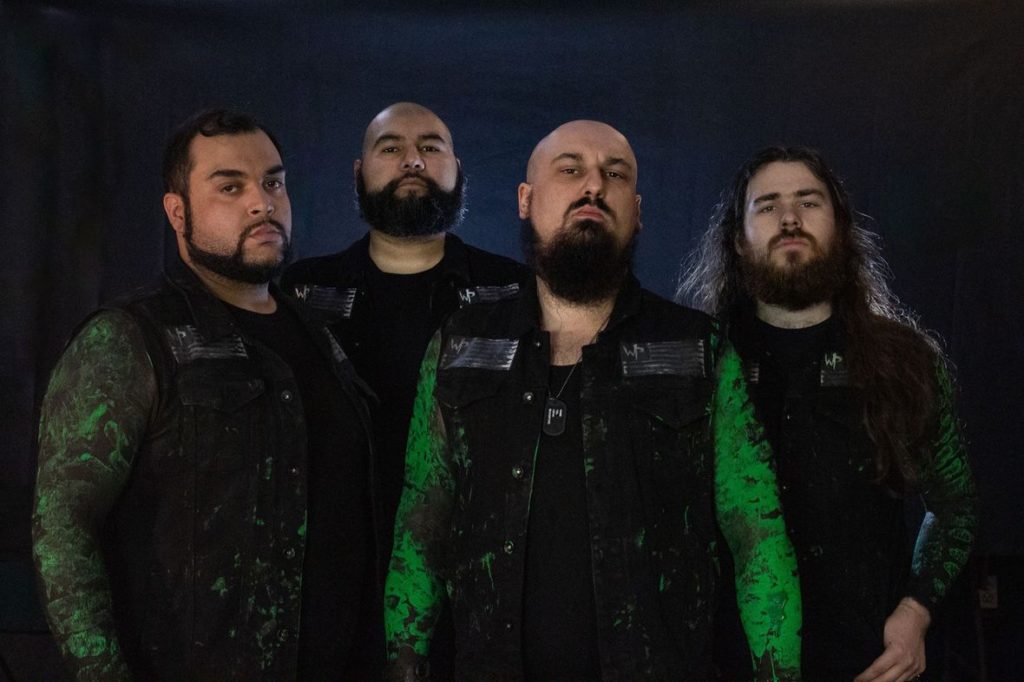 Based out of Los Angeles, Worldwide Panic is a hard rock/heavy metal band that formed in 2016 with the aim of writing heavy, catchy music with personal and meaningful lyrics. In a world mired with social and political controversies, Worldwide Panic offers a more relatable take on everyday life and overcoming the trials and tribulations the common man faces. The compose songs with an approach that focuses on a mix of clean and aggressive vocals and a riff sound. With those guitar worshiping riffs and the balance of both clean melodic vocals and screams Worldwide Panic appeals to listeners all across the hard rock and heavy metal spectrum. 
Worldwide Panic have released the lyric video for their cover of Alanis Morrisette's 90's hit "You Oughta Know." The track was mixed by legendary producer and engineer, Mike Plotnikoff (Chris Cornell, The Cranberries, Kiss, Fear Factory, Aerosmith) and mastered by Joshua Wickman (KING 810, Within the Ruins, Motograter). Frontman Lane Steele has a voice that is perfect for this song. His gravely pitch really delivers the angst that we first heard with Alanis performed the song, and George Patmas (Lead Guitar) and
George Gutierrez  (Rhythm Guitar) give the song the riffage that was absent in the original. The song isn't a huge departure from the original but they have certainly taken liberties with the music adding some super sludgy riffs that give the song a doom feel, but when the chorus kicks in the song becomes much more upbeat like the original but still having a metal edge to the music.
In addition, the band will hit the road with Mushroomhead, Hellzapoppin and Ventana on the Madness & Mayhem tour that begins on February 15th in Detroit, MI at Harpos Concert Theatre.

Worldwide Panic U.S. tour dates w/ Mushroomhead, Hellzapoppin & Ventana:
2.19 – Omaha, NE @ The Waiting Room Lounge
2.20 – Colorado Springs, CO @ The Black Sheep
2.21 – Denver, CO @ The Oriental Theater
2.22 – Salt Lake City, UT @ The Royal
2.23 – Jerome, ID @ Diamondz Event Center
2.24 – Everett, WA @ Tony V's Garage
2.27 – Hollywood, CA @ Whisky A Go-Go
2.28 – San Diego, CA @ Brick By Brick
3.02 – Mesa, AZ @ Club Red
3.03 – Tucson, AZ @ The Rock
3.06 – Dallas, TX @ Gas Monkey Bar & Grill
3.07 – Houston, TX @ Warehouse Live
3.08 – New Orleans, LA @ Southport Hall
3.09 – Orlando, FL @ Shovelhead Lounge
3.10 – Tampa, FL @ Brass Mug
3.12 – Spartanburg , SC @ GroundZero
3.13 – Lexington, KY @ Manchester Music Hall
3.14 – Erie, PA @ Basement Transmissions
3.15 – Harrison, OH @ Blue Note Harrison
3.16 – Cleveland, OH @ The Agora Theatre
3.17 – Battle Creek, MI @ The Music Factory