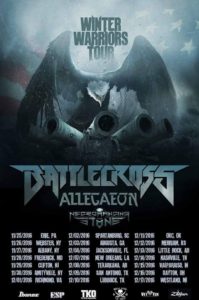 Sunday, December 4th, 2016. Jack Rabbits, Jacksonville, FL. Metal Blade Records' artists Necromancing the Stone, Allegaeon and Battlecross take the stage for an evening hammering down some of the most engaging and hard hitting Metal around. This is the third such outing for headlining act, Battlecross, on their annual Winter Warriors Tour where veterans are allowed free admission to the shows and a portion of all proceeds land in the coffers of local veteran charities. The Metal community has no heart and is just a bunch of Satan loving hooligans wearing black t-shirts and leather jackets. Psh! No matter where I go, you people are the biggest hearted group, supporting our military vets, children charities and each other at every opportunity. Hell, there was a Metal show down the street from Jack Rabbits set up by local promoters and bands in support of a wonderful family that recently lost a child. I am truly honored to call each one of you brothers and sisters, even if we have never met! Thank you! In addition to the music, when it comes down to brass tacks, our solidarity is what grows the genre.



Allegaeon is:
Riley McShane: Vocals
Greg Burgess: Guitar
Michael Stancel: Guitar
Corey Archuleta: Bass
Brandon Park: Drums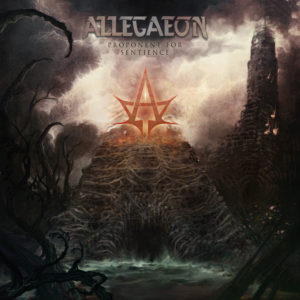 Being a huge fan of Technical Death Metal, I have been listening to Allegaeon since they released Fragments of Form and Function back in 2010. Simply awestruck. I continued to follow them through Formshifter in 2012 and Elements of the Infinite in 2014 as they progressively pushed the bounds of their craft. Their playing and songwriting abilities appear to have no limit. When given the opportunity to review Proponent For Sentience, due out September 23rd, 2016, I immediately got dibs before someone else snatched it from grasp. Thank goodness, because Proponent For Sentience is devastatingly good!