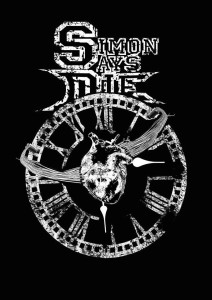 Modern Death Metal is alive and well from one corner of the United States to the other. The emerging band Simon Says Die from Vancouver, WA definitely has the upper, West Coast covered in this respect. Originating as a one-time show act in 2011 by guitarists Sean "The Beard" Bowden and Josh Bridge, Simon Says Die was born.
After a number of member changes and the acquisition of Austin Yeager on vocals, Travis "T-rav" Nichols on drums and Xan Gordon on bass the band was complete (Note: Xan Gordon is no longer with Simon Says Die but the band is actively searching for his replacement at the time of writing). According to original band member Sean Bowden: "The name actually comes from the idea that in the game of life (Simon), we encourage [everyone] to be a good person and live life to the fullest because you don't get a second chance when your time is up (Says Die)". This idea is clearly reflected in their thoughtful and introspective lyrics, often speaking of forgiveness and the deflection of deceit, cynicism and betrayal; not letting it deflate or defeat who you know you are. This lyrical, positive attitude is a breath of fresh air, giving them a distinguishable and ascribable feel.
(Pictures courtesy of Dimes Musical Photography)
That being said, make no mistake, Simon Says Die is anything but soft. With influences like A Day To Remember, Avenged Sevenfold, Motionless In White, Atreyu, Blink 182 and the like, their passion is driven home like a wooden spike through a vampire's heart by their heavy, low and powerful music. Down very low, the bass, Travis' drums and 808 hits seem to rumble up from the ground while 8 string guitar rhythms blast at a heart-racing tempo from above. Sitting squarely in the middle, clean vox and screams are shared by Austin and Sean. Josh's lead guitar finishes the band's perfect symmetry and keeps everything melodic and accessible to those that may shy away from the "Death Metal" genre title. For Simon Says Die, song-writing is a collaborative effort as Bowden explains: "Usually a song idea comes to the table and filters through each of us musically and we come together to arrange and add parts we feel the song calls for. Austin then takes over and writes lyrics stemming from personal experience or tying in with the concept of the band name, etc.". This focus definitely shows by their tight sound, excellent production and synergistic feel earning them endorsements from: Viking Oils (www.vikingoilsllc.com) and Saluda Cymbals (www.saludacymbals.com). Simon Says Die live shows are also said to be collective affair as well, demanding just as much energy from the audience as from the band. They can be seen locally around WA, particularly at the Hawthorne Theater in Portland but have had three tours under their belts covering OR, CA, NV, NM, UT, ID. Simon Says Die has also shared a stage with such notable acts as: All That Remains, In Flames, Otep, Wayne Static (RIP, brother), Escape the Fate, A Skylit Drive, WovenWar among many others proving that they are a force to be reckoned with well into the future! We will certainly keep up with them here at Metal Nexus.
Current, active band members of Simon Says Die:
Austin Yeager – Vocals
Sean "The Beard" Bowden – Guitars, Backup Vocals, Programming
Josh Bridge – Lead Guitar
Travis "T-rav" Nichols – Drums
Releases:
When All Is Said And Done (6 track, EP) – 2013
Fallacy (13 tracks) – 2014
Relentless (Single) – 2015
Serpents (Single) – 2016
A 7 track EP is in the works with an associated tour later in 2016.
For more information and music, please see Simon Says Die at the following links: Web  Facebook  CDBaby  Soundcloud