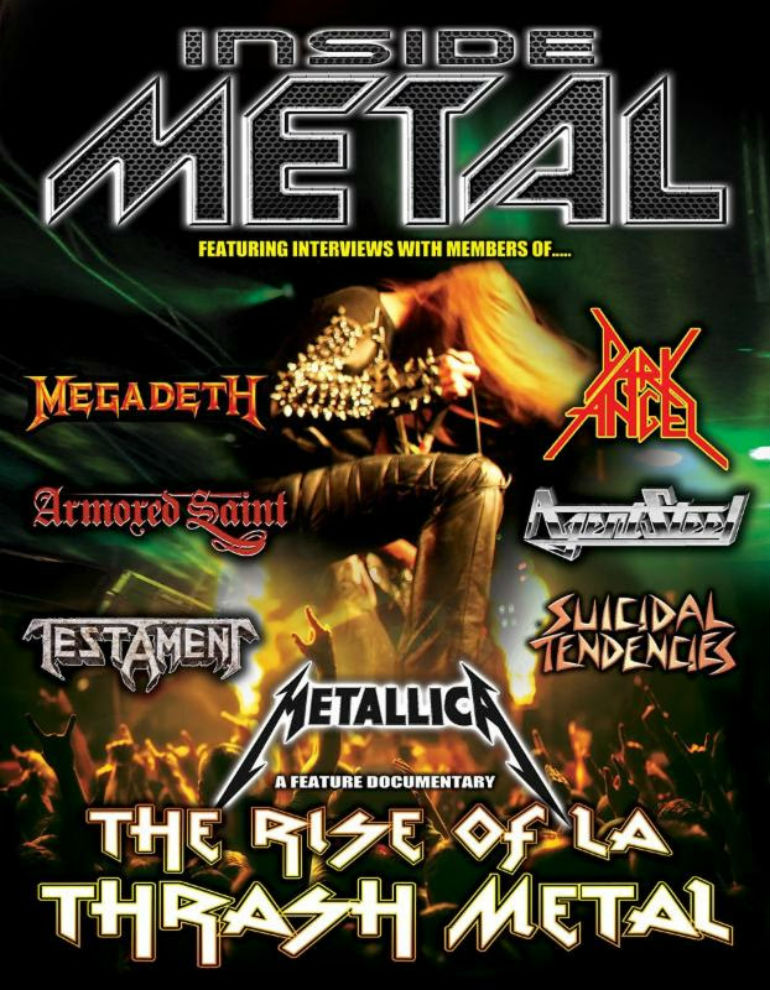 Throughout history, the San Francisco Bay Area has long been deemed as the epicenter for thrash metal, whereas Los Angeles has invariably been considered the stomping ground for glam and hair metal. True, San Francisco has birthed many exceptional thrash bands since the early '80s, but the fact remains – Los Angeles is the rightful birthplace of three of the "Big 4" thrash bands and is the breeding grounds for unconventional thrash/punk-metal bands. From legendary thrash icons Metallica, Slayer, and Megadeth, to punk/metal renegades Suicidal Tendencies and combative thrash stalwarts Dark Angel and Hirax, they all generated from this pretentious, megalopolis hellhole we call Los Angeles.
MetalRock Films is thrilled to release a new two-part Inside Metal documentary DVD series exploring this topic, entitled The Rise of L.A. Thrash Metal. The first DVD in the two-part set is set for release on January 19, 2018. Directed by Bob Nalbandian with narration by David Ellefson of thrash legends Megadeth, the documentary focuses on the Los Angeles thrash metal uprising of the early/mid '80s and acts as a follow-up to the first two Inside Metal titles, The Pioneers of LA Hard Rock & Metal and LA Metal Scene Explodes.
The documentary includes a wide array of interviews and in depth conversations with some big names in the thrash and metal world. Each special guest on the DVD provides unique and first-hand insight into the birth and rise of one of heavy metal's originating genres. Some of those guests include:  Lars Ulrich (Metallica), Brian Slagel (Metal Blade Records), Ernie C (Body Count), Katon DePena (Hirax), John Bush (Armored Saint/Anthrax), Dave Lombardo (Dead Cross, Slayer, Suicidal Tendencies), Marty Friedman (Hawaii, Cacophony, Megadeth), Frank Bello (Anthrax), Gene Hoglan (Dark Angel, Testament), Craig Locicero (Spiral Arms, Forbidden), Mike Inez (Alice In Chains), Monte Pittman (Prong, Madonna), and many more.
In the documentary they talk a lot about bands that are actually attributed to San Francisco but actually should have been considered more of an L.A. band. Some examples they give for instance is Metallica, who is widely attributed to being a San Francisco band because that's where they caught their big break. They actually began their career in L.A. and later moved to San Francisco. Metallica was one of the first thrash bands to relocate to San Francisco. Megadeth also an L.A. band never gets credited as being from L.A. One reason why San Francisco is known as the thrash capital of the world is because the majority of L.A. based bands would make the 7 hour drive to The Bay Area to play because the venues were better and there was a larger thrash fan base there that made things more accommodating for the bands. This was a time when glam and hair metal were dominating the Sunset Strip in L.A. and the majority of the bands wanted to distance themselves from that scene.
Dave Ellefson of Megadeth adds "Dave [Mustaine] says we're not playing any shows in L.A., because we're not playing any of the clubs.. and the truth of it was there was so much going on here and the sunset strip was so attractive to every band, every record label, managers, everybody in the business that all of a sudden the clubs turned into this pay to play thing.  And so what Dave [Mustaine] says we're gonna go up to the bay area, because that's where real thrash metal is happening."
One thing that they also indicate as a reason for moving away from the L.A. scene was that venues didn't really book the thrash bands with other similar acts. Some artists mentioned they were on the bill with bands that were like Journey clones. You can imagine that fans of bands like Journey wouldn't immediately be drawn to the more thrash style bands. Marty Friedman also makes note of he sort of got into the New Wave Of British Heavy Metal which largely attributed to the birth of thrash. Like most of us Marty was drawn to album art and took a chance on an album based solely on the art. This is something that happened often years ago in record stores, but with the advances in digital music is a dying scenario. Some of the albums he discovered were artists like Angel Witch, Praying Mantis, and Iron Maiden. Metallica's Lars Ulrich mentions listening to punk bands like Sex Pistols, Black Flag, Dead Kennedys, Circle Jerks, saying "It wasn't metal enough for me…it was just so one dimensional, you know in my outlook." Punk did have some influence into the punk scene, but similar to how Lars mentioned it wasn't metal enough. Lots of thrash bands used that punk influence and amped it up to help create thrash. Of course there was some animosity between punk fans and thrash fans and they never really seen eye to eye. Kurt Markham of Overkill L.A. or SST Overkill explains that the punk and thrash fans were often like oil and water and never mixed. He explains how at one show that sort of changed "One night we were playing at Alpine Village in Torrence and we were driving in there and i look i go oh shit, you got all the metal guys on one side of the parking lot, and you got all the punkers on the other side and the animosity has already started." But by the end of the night he explains that the punk fans actually got into the show. You even get to know that the music scene wasn't much different in England either as Raven's John Gallagher adds "It was you know punks against skinheads against hairys as we were called, there was no cross collateralization  in England everyone hated each other." In this era fans didn't have a broad taste in music, if you liked punk you hated everything else, and if you liked metal you hated everything else. Metal at the time was in a revolution. Styles were drastically changing and genres were born. Dave Lombardo (ex-Slayer) talks about fans first impression of the band "People didn't know what to do with us, you know listen wow these guys are too fast they didn't know what to make of us." It didn't take long before fans finally started to come around. The Weasels helped change things and bring two fan bases together. They were the first real cross over band. It's because of The Weasels that we have bands like Municiple Waste that are now keeping the crossover genre alive.
By far one of the funniest stories to come out of the documentary comes from Michael Sweet of the Christian glam metal band Styper. He says "Dave [Mustaine] and I became very good friends, he was a drug dealer" and goes on to talk about how Dave once sold pot to their guitarist John Voorhees and how Dave had planned to invest in Stryper but after seeing all their yellow and black theme he changed his mind. This of course while Dave was still with Metallica and Robert Sweet also mentions how Dave was aggressive and drinking heavily during that time. Styper was probably the last band you would expect to talk about drugs.
The amount of veteran thrash musicians that are in this documentary is insane. Bob Nalbandian leaves no stone unturned in regards to L.A. Thrash and to believe this is only the first part of a multi-part series on the rise of L.A. thrash easily leaves you craving more information about the heyday of California thrash. At one point it seemed like the world was against the L.A. thrashers, the punks, and the glam bands didn't want thrash to take over their territory. It also depicts how the crossover genre was formulated as well and how big of an impact it not only had on the L.A. scene but how it brought two fan bases together. This documentary puts you directly in the middle of the music scene as thrash was born and began it's journey to metalhead stardom, though you may not have been there the insightful dialogue from the guests allows you to live vicariously through them.  The Rise Of L.A. Thrash Metal is told in a story telling fashion by some of the founders and biggest names in thrash. If you are a fan of thrash, music history or just metal in general this is a must have. You can pick your copy up on Amazon right here or you can stream it on Youtube for $3.99 here.