Medevil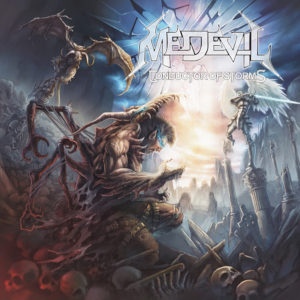 Conductor of Storms
Medevil. Chilliwack, British Columbia's favored Metal sons and top six finalist in the 2015 Wacken Metal Battle Canada are about to drop their debut release of Conductor of Storms. We recently got our grubby paws on this beast and it has impressed a number of us here on the MN staff. Never heard of them? Let's start with introductions…
Photograpy by Kevin Eisenlord
Medevil was formed in January of 2014 by bassist Eric Wesa and brothers Liam Collingwood on vocals and Ross Collingwood on drums. With the killer guitar duo of Gary Cordsen on lead and Brett Gibbs on rhythm, the band had coalesced into the spectacular band that exists today. Their sound is termed as Power Thrash which fits perfectly since leading influences include Metal Church, Iron Maiden, Accept, Rush, Metallica, Megadeth, Black Sabbath and Mastodon. Probably Progressive Metal in a more general sense of genre to be clear but absolutely devastating regardless. Liam states "Medevil formed as a creative outlet for each member. The goal of our band is to satisfy our creative desires, while maintaining our standard of quality and to expand our knowledge of music as a whole. In five words, I'd sum up our music as Power/Thrash/Prog/Heavy Metal." Furthermore, their sound is riff heavy, complex in structure, harmonic with catchy choruses in an anthem sort of way with shred solos throughout. It comes as no surprise then that song writing is handled collaboratively. Liam explains: "We normally have a bunch of riff ideas ourselves and then we all come together to complete our vision…We all take part in the writing. All the songs have some sort of collaboration going on, even though some may be very minor alterations. We try to collaborate on projects as much as possible without destroying the original vision." While music is deftly handled as a band, lyrics are left solely to their vocalist. Liam continues: "Lyrics are normally written based on an emotion or a story I am thinking of at the time that I want to project. Although sometimes I have some melodies in my head that I really like which I try to put into my lyrics. Some songs are more about a story I am telling whether fictional or somewhat true. Others are about a feeling or emotion I am feeling at the time and can be hidden beneath metaphors." This perfect symmetry becomes obvious once one has heard Conductor of Storms!
Conductor of Storms is due for release on August 26th and should definitely be added to your must-listen-to list. The tracks for this eight song album are the best of sixteen. "The track listing was a long task, it was most decided based on what we thought was the best listening experience for our fans and for how we like to set up our live shows with some changes. Fans can expect new material in the coming years and regular tours once or twice a year." Good news for their existing Canadian fans and those about to become fans of Medevil after hearing Conductor of Storms.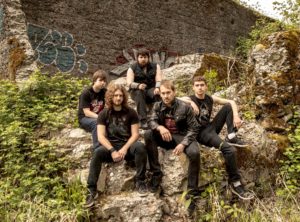 This monster release starts with fast riffing that bridges to a blistering solo before even getting to the meat of the song with "Nightwalk". When the powerful vocals of Liam Collingwood hit, I was immediately taken back to the original Metal Church featuring David Wayne. I don't normally make direct comparisons, but those that know me know that this is meant in absolute reverence and respect. I lost 30 years in five seconds. Impressed and moved by the homage paid directly to my all time favorite band. "Machination Factory", Medevil's newest song follows up with a heavier and darker feel. With a driving tempo that stutters along at a medium fast pace and the use of some dissonance create a more Thrash tune. The dueling guitar work adds to the hugeness of this particular track. The third song "An Empty Glass" drives hard and fast right out of the gate. The combination of ultra-catchy riffs and vocals that drift toward those of Udo Dirkscneider continue to impress. Gary Codsen's solo here is particularly interesting and adds a bit of spice to what is already hotter than hell. Instrumental, "In the Distance", (the shortest song on the album) quickly follows with an almost keyboard presentation of the guitar. Very unique and cool. "The Angel of Rain" begins with atmospheric rain and builds with semi-clean, emotive guitar and beautiful harmonics to add depth and feel. After a short pause, the song explodes into a spiral of sound. These two styles are traded back and forth before finishing as it started. This is probably my personal favorite. "A Sacrifice" follows with booming drums and bass, likening to an African chant. Razor sharp guitars give the feel of lightening striking while bass and drums continue to thunder while Liam's vocals echo strong. "Escape" is one of the fastest songs on Conductor of Storms. This thing gives the listener not one second of a break and has the most impressive guitar solos of the release. Shred-worthy with a hint of Blues to make things extra interesting. We are able to catch our collective breaths with the lovely introduction of the final song "The Fabled Uxoricide". The chorded bass line adds a depth of sound that allows Liam to stretch his clean range a bit. Once the chorus cuts loose, everything blows up and we are driven straight back into the ground. Bridges here definitely have Rush's progressive influence and fit perfectly into its overall feel. In finale form, all members blast away at your eardrums to finish the song and the album.
Man, what an album! With the sound and feel of vintage Thrash, which is (thankfully) again gaining popularity, Medevil shows itself to be a future force in Metal with their debut release of Conductor of Storms! From the first time I heard this album to the twentieth, I have been entertained, wow'ed and impressed by the sound of this uber-talented band. Maybe some of our kids will think back thirty years from now and still love the way they felt when first hearing killer bands like Medevil. Pick it up on the 26th and enjoy it for years!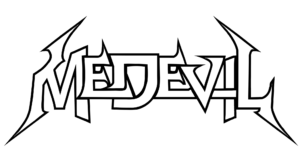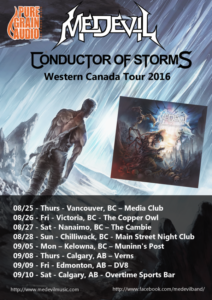 More on Medevil can be found at: Web  Facebook  Twitter  Instagram