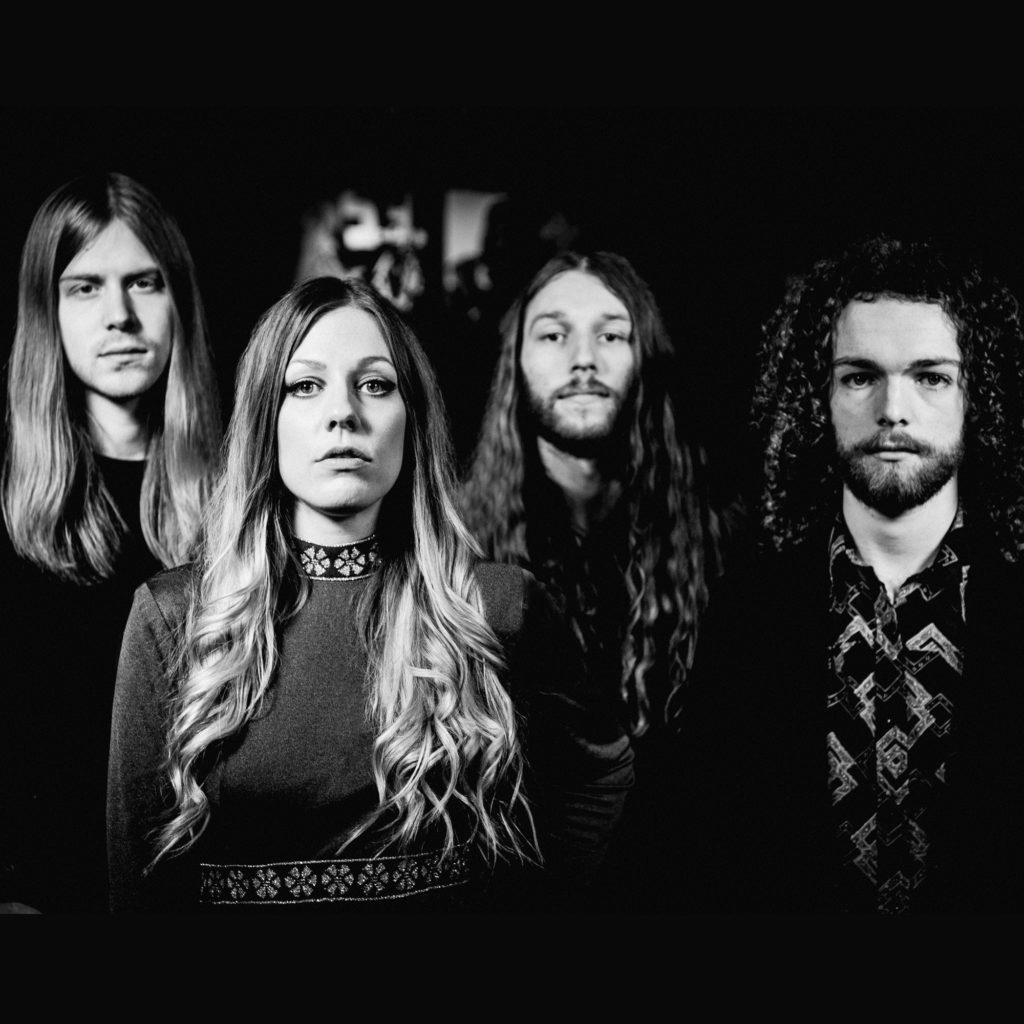 Formed in 2011 Blues Pills originally founded by  half-brothers Zack Anderson (bass) and Cory Berry (drums), formerly of Radio Moscow. The brothers then added powerful blues vocalist Elin Larsson and then adding then 16-year-old guitarist Dorian Sorriaux. Cory has since left the band and was replaced by current drummer André Kvarnström. In July 2013, Blues Pills signed a contract with Nuclear Blast and released their 'Devil Man' EP. In total the band has released 3 EP's, 2 studio albums and now 2 live albums. Now the Sweden based blues rockers Blues Pills have announced the release of their first ever DVD/Blu Ray, entitled 'Lady In Gold Live In Paris', on November 3, 2017. The release features the band's sold out performance at Le Trianon in Paris, France on October 30, 2016 in front of 1.200 euphoric fans.
Commented the band: "We are stoked to share with you that we will release a live record/ DVD which was recorded and filmed during our show in Paris at le Trianon last October on the 'Lady in Gold Tour'. We decided to do this because we want to share our live experience with all our fans and also those fans who might have never had the chance to see us live. The live interpretation of our songs differs a lot from the studio record versions. We would call it a bit more rock 'n roll, more heavy, more jam parts, more psychedelic parts simply another experience . Playing live is what we've always enjoyed most. In no other situation can you connect as deep with your fans. We tried to catch the magical moments and emotions of the live atmosphere on DVD/ record for your living rooms, cars and wherever you will rock out to it. Paris was chosen because it means a lot to us to play in this beautiful city and also 'Le Trianon' is one of the most beautiful venues in Europe, this needed to get shared with you.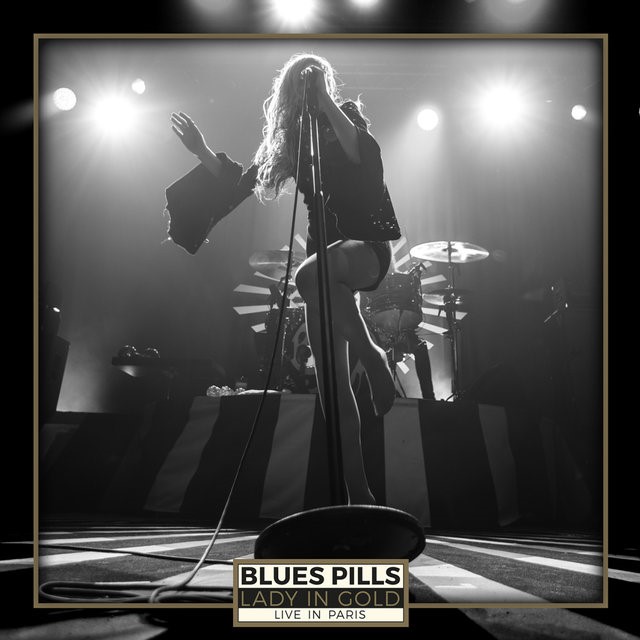 Right off the bat I'll start by saying that I'm not a huge fan of live albums. Of course I respect the effort put into them, but as a whole I feel that most are underwhelming. That being said, I am ecstatic to announce that 'Lady in Gold Live in Paris' by Blues Pills (Available November 3rd via Nuclear Blast) is a shinning example of a live album done right! The energy put into the performances of songs like "Bad Talkers", "High Class Woman", "Black Smoke" and "Devil Man" elevates them to a whole new level of feel good intensity! As far as set list goes, the band definitely isn't afraid to take risks as they make sure to include something as mellow as "I felt a change" which is sung beautifully by vocalist Elin Larsson! This may be a bold statement to make, but I'd put 'Lady in Gold Live In Paris' in the same category as some of my all time favorite live albums which include:
-"Reunion" by Black Sabbath
-"Live After Death" by Iron Maiden,
-"Neon Nights" By Heaven and Hell
So needless to say, Blues Pills is in good company!
'Lady In Gold Live In Paris' will include the following tracks:
1. Lady In Gold
2. Little Boy Preacher
3. Bad Talkers
4. Won't Go Back
5. Black Smoke
6. Bliss
7. Little Sun
8. Elements And Things
9. You Gotta Try
10. High Class Woman
11. Ain't No Change
12. Devil Man
13. I Felt a Change
14. Rejection
15. Gone So Long
The band will soon embark on an extensive tour through Norway as well as tour the UK supporting label mates BLACK STAR RIDERS and Sweden supporting legendary rockers EUROPE.
BLUES PILLS – live
W/ THE DEVIL AND THE ALMIGHTY BLUES
04.10. N Trondheim – Byscenen
05.10. N Oslo – Rockefeller
07.10. N Konsberg – Energimolla
12.10. N Bergen – Hulen
13.10. N Haugesund – Flytten
14.10. N Stavanger – Folken
09.12. N Porsgrunn – Rip/Sort & Bla Scene
Coming Under Heavy Fire Tour 2017
w/ BLACK STAR RIDERS, TAX THE HEAT, DIRTY THRILLS
08.11. UK Wolverhampton – Wulfrun Hall
09.11. UK Edinburgh – Queen's Hall
10.11. UK Warrington – Parr Hall
12.11. UK Hull – University of Hull
14.11. UK Middlesborough – Empire
15.11. UK Sheffield – o2 Academy
16.11. UK Leicester – o2 Academy
18.11. UK Cambridge – The Junction
19.11. UK Portmouth – Pyramids
w/ EUROPE
05.12. S Umea – Idun Teatern
06.12. S Stockholm – Annexet
07.12. S Gothenburg – Liseberghallen
The band's most recent record, 'Lady In Gold', was produced by Don Alsterberg (Graveyard, Division Of Laura Lee, Jose Gonzalez, Jerry Williams) featuring cover art by Marijke Koger-Dunham (The Beatles, Cream) was released August 5, 2016 and entered the album charts in these countries:
Germany: #1
Switzerland: #2
Finland: #6
Austria: #12
Belgium: #19
Sweden: #27
UK: #31 (Indie #8, Vinyl #4)
France: #33
Norway: #36