My boyz in Skeletoon are:
Mr. Tomi Fooler – Vocals
Charlie "Roxy" Dho – Bass Guitar
Henry "Sydoz" Sidoti – Drums
Andy "K" Cappellari – Lead Guitar
Fab "BLACKIE" Taricco – Rhythm Guitar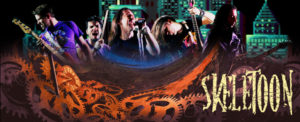 Alright.  If you are not familiar with Skeletoon, you are in for a real treat!  Founded by Tomi Fooler in 2011 in Italy as a Helloween cover band, these guys decided to start writing their own material based on old-school Power Metal, but done a bit heavier and faster than traditionalist are used to.  I can hear the gears grinding to a halt in your head.  Great…  Been there, done that, right?  Well, here's the kicker: these guys have a devious sense of humor and usually deals with stuff that is normally not a laughing matter.  PC making you crazy (yeah, me too!)?  Skeletoon have got you covered!  Picky as I am about Power Metal?  They more than have you covered on that front as well!  This is seriously good Power and shows not one single chink in their musical armor.  Terming their brand of Metal as Geek or Happy Metal, they already have one killer release under their belts, entitled The Curse of the Avenger (watch for references from Dr. Who, 80's video games and superhero movies and television shows from the past) from 2015 (kick-ass album!) and are just a few days away from releasing Ticking Clock on March 3rd!  Think nerdy Steel Panther without all the sexual overture set to brilliantly done Power Metal.  Not quite visualizing this yet?  Well, go check out their music.  You will absolutely thank me for this one!  Until then, check out what Tomi Fooloer had to say to our queries!  (Be sure to check out their latest video when you finish with the interview as well!!!)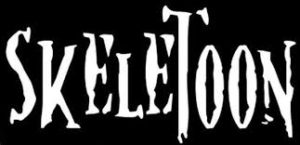 More on Skeletoon can be found on The Web  Facebook  YouTube  Spotify  Revalve Records

Interview with Skeletoon's Tomi Fooler: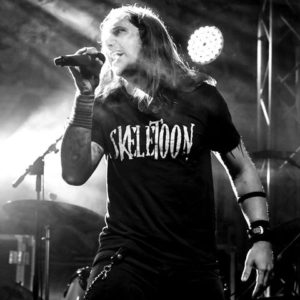 Odyssey: First off, Thank You! for taking the time to answer our questions! It is always appreciated and your time and efforts are never taken for granted!
Tomi: Hi Pat! You guys are very welcome, we actually want to thank you, who allowed us being here!
Odyssey: You guys started off as a Helloween cover band and ended up as a dark humor ridden Power Metal band. How did this concept come about?
Tomi: Well, Helloween (..and Edguy..) had a very big influence on us..It was just a matter of time we decided to start writing our own stuff…even if sometimes it sounds "old School", due to these bands, you know..;))
"TICKING CLOCK" is just something I deeply wanted in a long time..It's basically about growing old, and taking it in a good (and funny) way…like "..yep, we are going to die, we are aware..so, let's have good time, while we are not..!!"ahahah
Odyssey: Why Power Metal since it is usually carries with it symbolic, mythical themes?
Tomi: Because I Love Power Metal..above all metal genres. But i was kinda annoyed by dragons…ahahahah
Odyssey: Other than the obvious (Helloween), which bands have pushed you in this direction?
Tomi: Edguy. Definitely. I would have sung in an EDGUY TRIBUTE too, but his Majesty TOBIAS has got a very particular voice, I cannot imitate easily..But I Love it, that's the struggling part!! ahahah
Odyssey: How do you keep your sarcasm and humor intact while attempting not to become a parody or joke band like Steel Panther (who I love by the way)?
Tomi: We don't!! ahahah!! you know, we do love jokes and fun…actually, we try to be a parody, and it looks we missed the point, thou..ahahha
Odyssey: How does the mixture of Heavy Power Metal and humor translate to the stage?
Tomi: This is the easiest part: we just try and have fun, not trying to BE funny..it translates in something that comes out by itself…but trying to be genuine, means, too many times, we just find ourselves involved in very embarrassing situations. We will sort it out, i promise..;)
Odyssey: Please tell me Tomi Fooler is a real name and not a pseudonym!
Tomi: Yep…my Mom hates me…ahahah no, just kidding (luv u, mum..). Is just a Joke: TOMFOOLERY modified in TOMI FOOLER, with "I" instead of "Y" that gave that "FINNISH taste" that is very "power metal-ish"…
It came out from the musical "TomFoolery" about Tom Lehrer, a musician from the 60ies I always loved: he is a genius, and he loves to make fun of society..he studies mathematics and sings using humor.. is kind of a guru to me (I suppose he could be a "Nerd-Emperor", too..ahahah)
Odyssey: You term your brand of Metal, "Nerd Metal". Are you guys, in fact, nerds (video game fanatics, etc.) and "underdogs"? If yes, how so?
Tomi: YES!!! we are proud Geeks!!! ahahah..We decided to turn this kind of "negative" thing of being nerds in something that everybody considers "cool", like playing in a band..we thought it was fun. Moreover, we had to do something different from standard power metallers, and this seemed a good idea.. In March we will start a little tour in Europe, and (to show you how much nerd we are..), we rented a second Van that is going to be filled with Vintage Nintendos and GameBoys…It's going to be an Epic Journey playing Zelda & all Super Mario chapters…ahahah
Odyssey: In a world of thin skinned, politically correct hurt feelings, has public response to you been negative or generally positive?
Tomi: Mmmmm…you know, we are a pretty small band. We had more positive feedbacks than we expected, that's for sure..but Tomi: it's natural receiving negative ones..In general, I would say that both Positive & Negatives made us smile..so it's a good result, in the end!! ahahTomi!
Odyssey: Your prior release, "The Curse of the Avenger" has done very well over the course of the last couple of years. Tell us about the making of "Ticking Clock" (due out March 3, 2017) and what we can expect…
Tomi: We worked hard to do it: I wrote and played all the parts along with GUIDO from band TRICK OR TREAT. Is a Power Metal album with a bit darker sound..is still "Happy" but lyrics and couple of songs are heavier. It starts as a Nightmare annoying a 9 year old kid, named Timmy, but it ends with a surprisingly deeper theme, about growing old and facing life's troubles…the last song lasts 11 minutes, and it's a Prog style one. Let's say it was a "deeper than usual" album for us, not only because we had lots of guests in it.;)
Odyssey: Your albums host a number of other players. How are they chosen to be on the record?
Tomi: Mainly due to the role we designed, before..We first think about characters, then picked who we think it's best suited..we were honored to have these great artists: Jonne from KORPIKLAANI as "THE NIGHTMARE", Piet Sielck from Iron Savior as "THE FATHER", Jens Ludwig from EDGUY as "TIME", and TOMIKA FULIDA, a great singer & (especially) the woman every man would love to bang….eheheeh
Odyssey: Do members of Skeletoon also do side projects?
Tomi: Yep. most of us: I sing in a Prog metal band, too, while Henry is the mastermind of the project "EARTHCRY". Andy, in the end, he plays in a Symphonic Metal band called "KANTICA". But they have to put SkeleToon up front, or I will fire them….aahhahaha
Odyssey: Do you have plans to tour in support of the new album once it is released? If so, do you have dates and venues you can share? We are based in the U.S. Any plans of getting over the pond?
Tomi: Yeah, we are excited for the EUROPEAN tour we are going to spend along with Italian Bands DGM, SECRET SPHERE & TRICK OR TREAT, next March/April. In Summer, we are planning some festival, but Tomi: nothing unfortunately in your amazing country, that I miss so much since I was living overthere, almost 10 years ago..;)
Odyssey: Where do you guys most like to play? Why?
Tomi: Think Festivals are the best place to be: you have both time to rock on stage, and to share beers with friends, listening to good music. Is a great chance to party and to stay with friends!
Odyssey: Having toured pretty extensively over the years, what differences do you see in various countries? What remains the same no matter where you go?
Tomi: To be honest, we have to tell that we travelled a lot, but only in Europe, so far. East-Europe is a great reality, by the way..in last few years they improved a lot in managing huge Live Music events, and they are opened basically to every genre..They have good venues, great crowd and passion to go over listening also local bands and newcomers..I love it, and I would be back there immediately!!
Odyssey: As you have toured around, what are some other bands that you have run across that you think deserve some much needed attention?
Tomi: Well, They are Italians and they are wayTomi: bigger than we are..they are great friends and EXTREMELY TALENTED MUSICIANS..I am talking about TRICK OR TREAT, power metallers who enlist also LT'S Rhapsody's Singer ALLE CONTI: Go check 'em out, and you will believe me..;)
Odyssey: So far, what has been your crowning achievement as a band?
Tomi: I think that the possibility to collaborate with great Musicians as the ones who guested our new album "TICKING CLOCK" is the most appreciated achievement we could reach, so far. I am very thankful for that ;). And, wait: this is my first Interview with an Tomi: American Magazine, so this is another amazing thing i have to add on the list!!;))
Odyssey: What is on the near and far horizon for Skeletoon?
Tomi: …live gigs..it's time to go play, now! It's already 3 months we do not play live, and we are addicted to live stages!! ahahaha..
Then, (probably in autumn) we will start recording the new Album, our 3rd, who is going to be something even more POWER METAL, more similar to a musical fusion between EDGUY & DRAGONFORCE sound.. We have already done 3/4 songs, Title, Concept (sort of..), and all the nerd-enigmas we love to hide "between the lines", as usual… For example: have you noticed both 2 albums we made start with a "T" in title? or, if you make sum of letters that form the first album "THE CURSE OF THE AVENGER" you get number 20, that is actually letter "T" in Tomi: english Alphabet? Moreover, if you do the same with "TICKING CLOCK", you get letter "L"… T, L… they have a meaning, and it will take up to the 5th album to get what they stands for ;))…
But I can tell you, it's definitely huge "NERD" stuff…ahahahah
Odyssey: Again, I sincerely appreciate your time! As always, you are left with the final words… (comments, anything that I missed, parting shots and/or whatever you would like to leave with our readers)
Tomi: Just this one: Thanks for your time, guys, and thanks because is always an honor sharing our stuff with somebody else..hope you'll like our new "TICKING CLOCK", and we bet you can individuate all Nerds "signs" we left on its path…;) STAY HAPPY, & (as Steve said..) STAY FOOLISH!!
~ Tomi ~