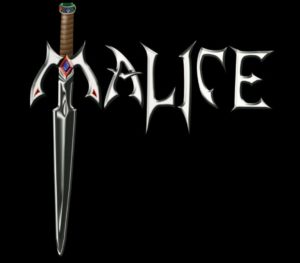 BloodRoseRed wisely chose Malice as one of her SOTA:Minnesota bands back in September (please see: Malice spotlight), which trumped my choice of them the week before. Well, we were offered an interview with founder, primary songwriter and bass player, "The Metal Warrior" Rayman James through Online Metal Promotion and BloodRoseRed kindly offered me the interview since I had also become a fan and missed out on their SOTA. Gotta love a group that gets along as well as we do! We would like to thank Mr. James for his time answering our questions and giving us his gift of music! Love this band!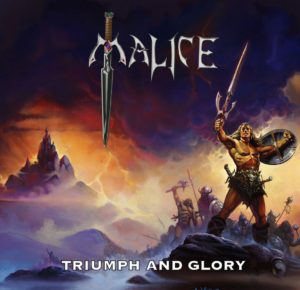 Malice is:
"The Metal Warrior" Rayman James – Bass
Sheridan Dolan – Guitar
David Koepplin Jr. – Drums
David Whitmer – Vocals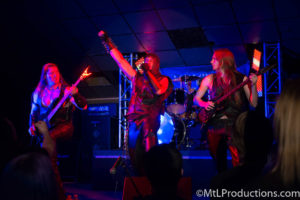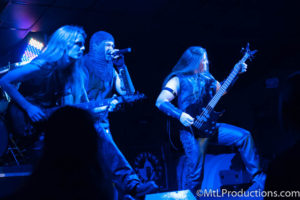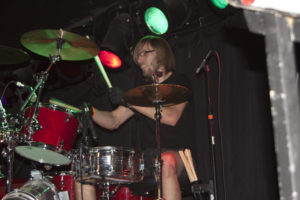 Interview with Malice mastermind "The Metal Warrior" Rayman James:
Odyssey: Let's start with the obvious questions about the new album, already in progress. How is it coming?
Rayman: Things are going good; slow but steady. It's an on going process and hopefully we will have something out soon.
Odyssey: What can you tell us about it so far?
Rayman: I can tell you we feel it is better than our first album. It will be true heavy metal just like the first one was.
Odyssey: Have you experimented with new things that you have not done in the past?
Rayman: Not really any experimenting, just this album will have more Sheridan Dolan on it in his style of playing and writing as he has contributed to the musical compositions on this one writing many of the songs with me.
Odyssey: Do you have a (tentative) date when we can expect it to drop? Will you be dropping singles/teasers first?
Rayman: No we don't have a date set yet for the release. We are planning to release the single "Wheels of Steel" first and that one probably should have been released already but then we decided we want to do a music video shoot for that as well. Which is now a bit more difficult as we wanted the video to feature us on our bikes because the song is all about how we love to ride. And since it is almost winter here we are running into that conflict. So we are planning to do the video shoot now in Las Vegas when we play there in January.
Odyssey: How is new singer David Whitmer working out?
Rayman: Awesome we really like him he has been with us for a while now. His attitude, his energy, everything has been awesome. And he fit in very well with us as we are all kinda odd guys and have similar mind sets. We all get along really good and I think that is important 'cause now its like we have a group of guys who are all friends and actually want to spend time together and hang out and we have fun on stage and off.
Odyssey: You have had a few line up changes since the 2012 release of "Triumph and Glory". How has this affected song writing for the new album?
Rayman: It really hasn't affected the writing, since I am the primary writer and I wrote the first album myself and now Sheridan helps me on the musical side. I usually will come to him with my concept or outline of the song or song idea and then we will work together to flesh it out. Or sometimes he will be in rehearsal and just noodling around warming up and play something cool that I like and I will say "Hey man play that again" or "Can you play that and then do this or that" and it just goes from there.
Odyssey: Please us take us through the evolution of creating a new Malice album.
Rayman: Oh man, that is kinda hard to explain. A lot of the ideas come to me in my car or at the gym, then I write it down get home and play it on my bass then bring that to Sheridan and we work on it together. Many times we will record it before presenting it to the rest of the guys. Then we say "Okay, here is what we want you to do", then when we go to record in the studio things can and do seem to change for whatever reason. Someone may play their part a bit differently and we will hear something we think is cool. [Sometimes] the producer/engineer will make a suggestion and we try that out and we end up recording songs a few different ways and then when its all done I sit down with the engineer and go through every take of every song and there are a lot. We usually do about 12 tracks of guitar recordings and 6-10 vocal tracks just for 1 song. Then we pick and choose what we like best and what will make the final cut going from 10 vocal tracks to just the final 1. It takes a lot of time.
Odyssey: What inspires and influences you musically and lyrically when you set off to produce new material?
Rayman: EVERYTHING. Movies, books. I might see something online or read a quote someone from history said and I will be like "Oh damn that is cool" then it gives me ideas.
Odyssey: What prompted the re-release of "Triumph and Glory"? How has been received so far? How does the re-release differ from the first time around?
Rayman: I don't know if its really a re-release, more as a re-marketing and trying to push it more and get our name out there. When we first released it, we kinda didn't know what we were doing; just a bunch of kids that were like "Here world buy this." and didn't really know how to get it in front of people or the right people. Basically, we relied almost 100% on social media and our concerts to get the word out. Now we got a little smarter and we have some good people that know what they are doing and know people in the music industry to help us out.
Odyssey: I see you have some pretty heavy touring coming up later this year and into next. Do you have plans yet for touring in support of the new album?
Rayman: Well, we will certainly do that when it comes out, yeah, and on the up and coming one we will be playing some songs off the upcoming album as well, such as "Slaying the Dragon" and "Swordmetal" and of course the single "Wheels of Steel" and fight which we actually released already with Reece on vocals when we started recording the album but we will re-do that with Whitmer on vocals as it was always intended to be on our second album
Odyssey: You have played all over the world. Is there anywhere you have a particular affinity for? Why?
Rayman: Well I love Romania really and am working on some shows there coming up soon we hope to work that out. Really we love to play everywhere. Anywhere that Malice fans are is a good fucking show. And if there are no Malice fans than there will be by the time we finish playing at the end of the night.
Odyssey: Are you received differently overseas since you have that cool, Traditional European Power sound?
Rayman: Well we certainly sell a lot more merchandise and CDs overseas and they certainly do illegally download our MP3s a lot more too HAHAHA!
Odyssey: You play a variety of venues, from smaller music halls to large festivals. Do you prefer one or the other? Why?
Rayman: Well, we love a big stage. I like the small venues for the intimate experience but we love a large stage because in our show we all run around a lot we are constantly moving so small stages are not good for us you don't get the full effect of what we do.
Odyssey: Since you have such extensive tour experience with huge numbers of bands, are there any that you would like to play with that you have not? Who?
Rayman: Iron Maiden of course would love to play with them or Priest. We are having Cage join us for part of our next tour and we are very happy about that as I have become good friends with Sean and those guys. Powerwolf would be a good one to play with also.
Odyssey: Are there any lesser known bands that you think we need to be watching out for that you have come across?
Rayman: Some of the lesser known bands I really like are Iron Kingdom and Spellcaster, Unleash the Archers, I fucking love Death Dealer (not sure you would consider them and unknown band though). And as far as my local power metal scene goes Eternal Voyager, and Lords of the Trident are great.
Odyssey: You have a fanatic fan base that you support as much or more than they support you, which I really appreciate. Channeling your passion for the "Metal Family" into legitimate and pertinent causes puts my respect for you guys WAY up there. Not just a charity show here and there, but real skin in the game. Please elaborate on how/why you are so passionately involved in such causes as (please feel free to add any others that I may have missed):
– Human trafficking (Not For Sale campaign) with a percentage of "Triumph and Glory" going to the cause
– ("Sons of Rock" video) and your fight against domestic violence
– Rockers Against Drunk Driving
– The End Hunger Now Challenge
Rayman: Yeah man! Well the human trafficking is the big one for us. We have done a few shows to raise funds for that. It really is sad that slavery still exists and many people are really blind to it yet or just don't care so we do donate to that and we we are looking for ways to take it even further. It's really just something sad. My personal experience with it took place a few years ago when I was in Europe in 2013, I believe, and I had a pimp on the street try to sell me a 10 year old girl. It took everything inside me not to kill them right there but instead to lead them on as if I was interested then walk away and called the local police, who then used me to get to them in a sting operation as the bait so to speak. So yeah, it is something we are passionate to stop and we are not just talk we will take action. So please stay tune to our website as we plan to do more to combat this growing global issue.
One thing that isn't mentioned on our site as well is we are in the planning stages with some other local MN bands to do a #backtheblue concert in support of the brave men and women on the local police force.
Odyssey: As with any Metal Nexus interview, the floor is open to you for whatever you would like to leave our readers with. And…. GO!
Rayman: We hope that you all will make it to our shows and support Malice, Metal and the local Metal bands in your area. Thank you for helping me make my dreams come true and letting me play Heavy Metal music for all of you. It truly is the greatest thing; the greatest feeling in the world stepping on stage in front of screaming Metal fans, it can never get old it is fantastic we love you all, keep Metal alive!
R.F.a.R
Hail!
The Metal Warrior, Rayman James
Thank you so much for taking the time for our questions! It is always appreciated and never taken for granted! Please stay in touch as your new release comes to fruition! Malice kicks some serious ass!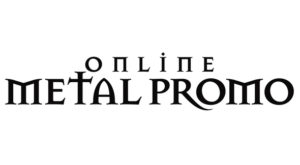 More on Malice can be found on: Web  Facebook  ReverbNation