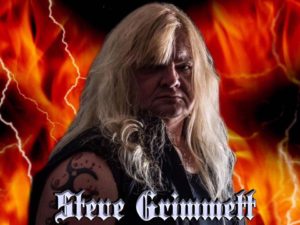 Man! What an honor and a privilege! When I was told that I had the opportunity to interview you, my breath completely failed me. I cannot tell you how much Grim Reaper has meant to me over the years. If you read my review of "Walking in the Shadows" (Grim Reaper), you get a taste of exactly what I mean by this (I wanted to give some insight to our readers on what my long history means with Grim Reaper as perspective for the review). All of your work has been a staple in my listening library for over thirty years now and remains some of my favorite music. As a preamble to the interview, I just want to personally thank you for your gift of music that you share and has had such a profound affect on me. As I stated in the article, Grim Reaper, in many ways, saved my life at the ripe old age of 14. At 47, I simply cannot shake the feelings that your music still invokes. Thank you! You guys and your music means a metric tonne to me! Great to have you on board with us!
Not every day you get to interview a childhood hero!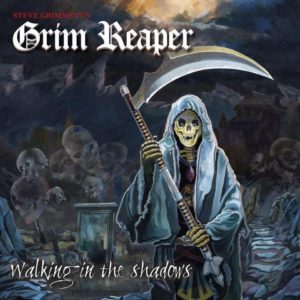 Interview questions:
Odyssey: Let me start with the obvious question: What has brought about the resurrection of the Grim Reaper moniker after almost 30 years?
Steve: The fans. I was consistently asked by fans when GR would tour again or write new music. In the end I gave in and here we are.

Odyssey: Since you have played with all of the new players in the past, it is obvious why you chose them. How has the new line up changed songwriting from the original iteration of the band?
Steve: All members are professionals, which made the process a lot easier and I think it shows in our live shows too.

Odyssey: Has this been tough or just the natural progression of things for everyone involved?

Steve: It was easier than I thought it was going to be. We wanted old school Grim Reaper and I feel that's what we have produced.

Odyssey: What is your process of songwriting (musical and lyrics)?
Steve: Ian Nash and I wrote the songs. Some we sat down together to write but most of them we wrote separately in our own studios then came together to make any changes.

Odyssey: How has lyric content and direction for Grim Reaper changed for you over these many years?

Steve: Lyrics are very dependent on what is happening around me (either in my private life or the news) and what affects me at that time.

Odyssey: Please take us through the many projects over the years of the Grim Reaper hiatus and how they have affected the new album. What have you done here that has never been attempted or was not possible back when last we heard you back in the late 80's?
Steve: Walking in the Shadows is the first GR project since the 80's. The difference now is computers. The first three albums were recorded on tape and each take was recorded over the last. This time we could use our own studios, recording sections at a time. Where before I would have been shut away in a studio for a week away from my family and put under pressure, now we can record in our own time making sure we get it right.

Odyssey: How do you keep the fire and passion burning for almost four decades? This is an inspirational testament to up and coming bands!
Steve: The fans. As long as the fans come to my gigs and buy my albums I will keep going.
Odyssey: What advise would you give to these bands?
Steve: Never give up and believe in yourself. Also be unique in your sound and performance. You don't want to be known as the band that sounds like another band, you want to be known for you.
Odyssey: How has Walking in the Shadows been received so far?
Steve: The response has been the best. I have yet to receive any bad reviews. I'm so pleased.
Odyssey: What has been the response from the often jaded, younger crowd that did not have the pleasure of "knowing" you guys back in the day?
Steve: The crowds are still full of 18 year olds whose parents and grandparents passed down their original vinyls. Often the parents and grandparents go to the gigs with them too. Three generations moshing together. How cool is that!?

Odyssey: The album has been highly anticipated throughout the world Is there any particular place that it has hit harder than others? Any feelings why?
Steve: Some countries are harder than others to get a record deal, but that's because of their lack of money. But I have been interviewed by countries I never thought I would, including India.

Odyssey: In your expansive experience, please contrast how different areas of the world differ in their views, digestion and response to music.
Steve: The rock/metal community spreads through out the world, in all countries. I wouldn't say views differ but that some area's have more access to certain genres of music than others. That may be because of money or religious views or political restraints imposed by leaders.

Odyssey: I really like the modern sound and production quality on the new album that still retains that classic, Grim Reaper feel. What do you consider the key to this "feel"?
Steve: Keeping it classic old school.

Odyssey: Grim Reaper remains firmly rooted in what made you one of the trailblazers of early Metal. Are there any modern bands that have influenced the new album?
Steve: No. I don't listen to others bands music.

Odyssey: Any original influences that are still affecting you?
Steve: I am not influenced by anyone but I do feel inspired by fellow rockers that have been going as long (if not longer) than me. If they can still do it at their age then so can I!

Odyssey: Who have you not played with that you would love to share the stage with (modern and old influences)? Any that you would actually like to work with, given the opportunity?
Steve: If I could turn back time then, of course Dio. I would be honored to be on stage with the like of Ozzy, AC/DC, Tenacious D, Saxon, any of them…. if they'll have me.

Odyssey: Any newer bands you suggest we should be watching out for?
Steve: Keep an eye out for Twisted State of Mind

Odyssey: What other types of music do you enjoy other than Metal? Anything that you would like to try in the future that you have not ventured into yet?
Steve: To be honest I quite like country rock. I have no plans to venture in to other genres.

Odyssey: You recently signed with Dissonance Productions. I am sure you had a ton of companies that would have jumped at the chance to host a legendary band like Grim Reaper. How did you land with DP? How has this relationship affected the band?
Steve: I met with them a few years back when they signed the 'Sanity Days' album, but all they wanted to talk about was GR. Once they heard we were writing a new album they were straight on the phone making an offer. They're very honest and up front, no bullshitting, which is what I like.

Odyssey: You are touring internationally in support of Walking in the Shadows. How do tours of old contrast with modern touring? (I have not seen any FL shows yet, but would LOVE to see you guys!)
Steve: Touring now is less about sex, drugs and rock 'n roll but more about sleep and tea. We party some nights but when you're on the road so much and perform for days and days in a row you have to rest or you wouldn't get through the tour. We do get through a lot of Jack though!

Odyssey: What do you like about modern music/Metal? Any dislikes? With your long tenure as one of the greats, I am curious to know how you would propose these problems be improved and/or fixed?
Steve: A lot of modern music is too commercialized and digitally enhanced, which I don't like. It needs to stay old school to retain that unique sound. If a band can't produce that sound in a studio without being digitally enhanced then they're not going to sound great live. Bands need to be unique to their sound.

Odyssey: What are your feelings about modern music distribution?
Steve: Illegal downloading makes me very angry. You wouldn't ask a builder to build a house for you then refuse to pay them, so why do people think its ok to download music and not pay for it? That is someone's work. Don't get me wrong it is great that music is so easy to obtain, by downloading or buying CDs/records on line, just as long as people pay for it.

Odyssey: How about the "Industry" in general? Again, what and how would you like to see things change (streaming, touring, computer based self distribution, band support, etc.)?
Steve: It is a really tough industry to get by on these days. Labels don't have the money like they use to. In the 80's money was thrown at bands to raise their profile but not anymore. Because people can now what live video steaming or YouTube/Facebook videos of gigs, they don't come out to gigs live. So, one of the things I would like to see is for more people to support live music.

Odyssey: Obviously, I really dig Walking in the Shadows! What does the future hold for Grim Reaper?
Steve: Lots of touring and, perhaps, another album.

Odyssey: It is a real honor and pleasure to have the opportunity to ask questions of one of a bands that I have consistently listened to for the better part of 35 years and I thank you for your time and consideration! It is much appreciated and never taken for granted. As with any of our interviews, I leave the floor open to you for anything else you would like to add and/or share with us and our readers.

Steve: Thank you. I would just like to thank all my fans for supporting me for all these years. Without you I wouldn't be doing what I love. Please come to one of my shows and hang around afterward and I will come out and sign things for you.
More on legendary Steve Grimmett's Grim Reaper can be found on the Web  Facebook  YouTube  Dissonance Productions