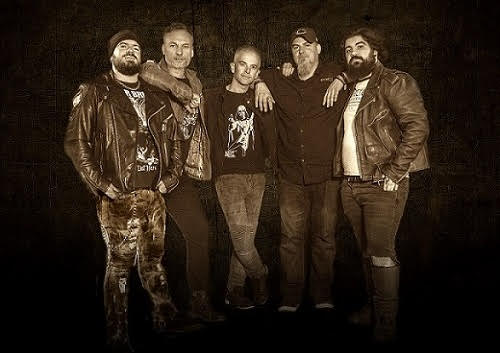 Hey there random rocker/metalhead! It's always good to indulge yourself in uncharted territories, ain't it? So today, I bring to thee from the other half of the world, across oceans, from the land of bread and fashion, hard rockers LUMBERJACKS. So, three years after the release of their debut EP and after some months of hard work but also tons of gigs along with bands such as Electric Mary and Bukowski, French heavy-rockers LUMBERJACKS are about to release their debut full-length album 'Alone?' coming out on May 5th on CD & digital formats.
 In the meantime, the quintet just pulled the curtains off on a brand new single called "Mystery Light". The track and the entire album was recorded, mixed and mastered by Edgar Chevallier at Lower Tones Place Studio. So today we bring to you the single stream which you can find attached below.
If you're unfamiliar with these French dudes, then first of all let me bring it to your notice that you're missing out on good stuff, man! Alright, so LUMBERJACKS is first and foremost a musical adventure that emerged in the winter of December 2013 with members, Lolo (Bass), Hos (Drums) and Ben (Guitars). Fast forward a few weeks, the project had a voice with the arrival of ArNo (Vocals). The LUMBERJACKS cabin was full ! Less than a year later, the EP with 7 tracks 'A Moment To Balance' was made public and it immediately turned a lot of heads towards the French outfit.
On January 2015, after dozen of shows, Ben left the band for personal reasons. The group quickly found a successor with Rémi before hitting the road again with bands such as Bukowski. Their sound definitely is in the nerves of 70's heavy doom-ish style, stoner rock coupled cleverly and meticulously with other modern sub genres of hard rock and metal. LUMBERJACKS played with Electric Mary, and, around the year 2016 they began working on their first full length album. Watch out as 'Alone?' comes out on the 5th of May this year. Till then, why not swirl your head to some good French hard rock?
Pre-Order the new album, '
Alone?
'
HERE
!