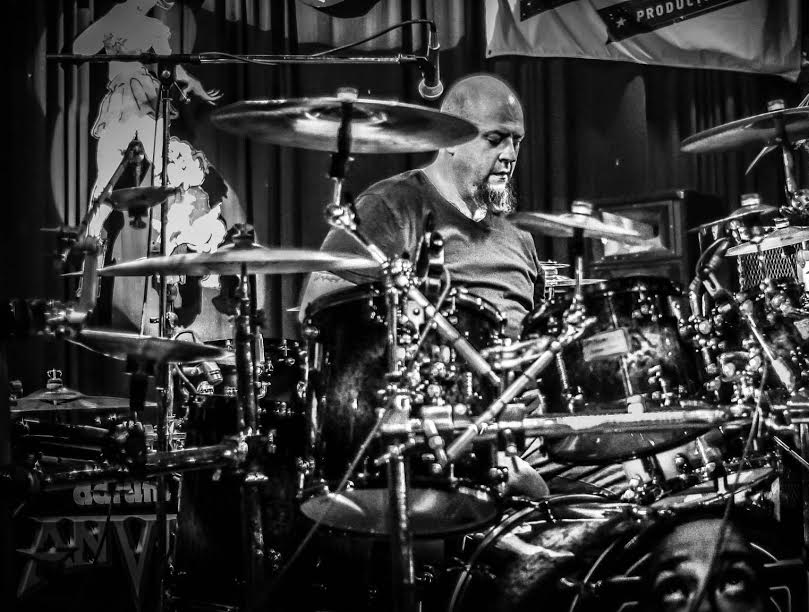 Last week we broke the news that DEAD EARTH POLITICS had parted ways with founding drummer Mason Evans. [Read Here] Evans co-founded DEAD EARTH POLITICS in 2003 with bassist Will Little and guitarist Ernie Clark, and contributed heavily to the band's meteoric rise. The Austin, Texas-based metal group have been compared to the likes of Lamb of God, Iron Maiden, Pantera and other legends, this band strikes at many cores. The band has become one of the top bands in the New Wave Of American Heavy Metal. They have their roots in the thrash metal genre, but at times also show signs of influence from traditional metal and power metal as well. DEAD EARTH POLITICS perfectly blends melodic vocals and vicious harsh screaming. The band is one of the most cherished acts in the Austin, Texas music scene and they are a five-time recipient of the Austin Chronicle's "Best Performing Metal Band," winning the award every year from 2012-2016. The band released the following statement in regards to Mason's departure from the band. "One of the toughest decisions to make in a band is whether or not to part ways with a brother who has been there from the beginning. Mason is a founding member whose input and talents drove DEAD EARTH POLITICS' from the onset. With that in mind we are announcing that due to various differences, we have decided to part ways. We wish Mason the absolute very best in his future endeavors and we are stoked as hell to share some big developments with everyone in the very near future."

Once the news broke many fans were saddened of the news as Mason was the last founding member remaining in the band and was an integral part of the bands success and sound. Mason reached out to us and wanted to also make a statement about everything related to the whole ordeal.
Evan's issued the following statement on his departure:
"Devon Brown, Tim Driscoll and Aaron Canady attempted to ambush me and take a business that I built. Will, Ernie and I founded the band. I hired every one of those guys that came after. I named the band and I hold the DBA. The LLC is mine and mine alone. The government currently has the name "DEAD EARTH POLITICS" under trademark review and mine is the only name on those documents. All the intellectual property is credited to DEAD EARTH POLITICS and, in the eyes of the law, I AM DEAD EARTH POLITICS. They tried to take my life's work from me but I'll be damned if I let that happen.
You'll certainly be seeing more from DEAD EARTH POLITICS but it won't be with any of those cowards. DEAD EARTH POLITICS is mine. You couldn't look me in the eye when you made your move. We'll see if any of you can man up in the legal shit storm that's coming."

In addition to Mason speaking out on his own behalf former founding bassist Will Little also made a statement:

"What is DEAD EARTH POLITICS without its founding members? Who is left to carry on our vision? I left DEAD EARTH POLITICS after 13 years because I did not think the band was going in the right direction. The music had become tertiary in priority in my eyes. But Mason, a founding member, chose to stick it out as he believed in the band that he, Ernie and myself created. I respect him for that. My hope was that he would eventually be able to steer the band back to the core vision that the three of us built it on: to play good music, perfect our craft, and have fun. We built a brotherhood on that vision (I thought anyways); we dealt with each other's idiosyncrasies and flaws as brothers should. To think that a band can "part ways" (should be read as fired) with a founding member, especially it's LAST founding member, without arbitration and for a flimsy reason, to me sounds like a cowardly way to take over a band. Well it seems to me they think they have it now, but I don't see how they can hold on to it. With no legal standing to the DEAD EARTH POLITICS brand or business they have inherited an Empire of Nothing."
Scott Durst, former manager for DEAD EARTH POLITICS also weighed in:

"I'm confused and a bit disturbed to hear of the attempt to rob Mason of his life's work. Mason Evans and Will Little (former bassist) were the last founding members and truly the foundation of DEAD EARTH POLITICS. All the other members that came after do not own the band. I stopped working with DEAD EARTH POLITICS out of frustration with my interactions with a particular member of the band who consistently proved to be completely ungrateful and unprofessional. I found Mason and Will to be much easier to work with. I can think of someone in particular that should have been let go but I won't go there. I see this as an unfortunate situation that probably won't end well for the guys that hatched this ill-planned hostile take over. I would suggest Devon, Tim, Aaron and what's-his-name find a new band name and create another brand around what they want to do and let Mason decide what happens with the future of DEAD EARTH POLITICS. Legally that's the only option I see being realistic."
While we certainly hate the way that this played out we are huge fans of what this band has accomplished as a whole, and while we don't know what the future holds we will always have the music they created to keep us company. We wish the best of luck to all involved.