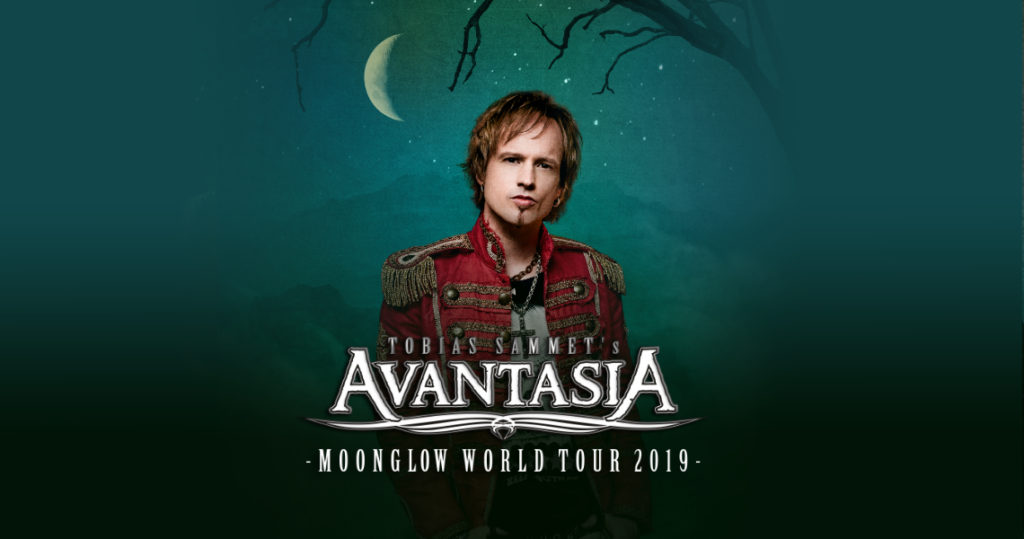 With fun and suspense gearing up regarding AVANTASIA's next opus 'Moonglow', which is releasing on the February 15th, via Nuclear Blast, the band has released some fresh new music from the very same upcoming album. And oh boy, it sounds sumptuous! The new song is called "The Raven Child" and it delivers eleven minutes of magnificent aural pleasure. You can pre-order your copy of 'Moonglow' here.
Last Tobias Sammet, the front man of the band revealed to us more details about the new record. Along with that he comments, "I really can't wait to unleash Moonglow. First reactions by press and friends are the most enthusiastic comments I have ever gotten in my whole career of 27 years. No bullshit, it's the truth, Sascha and I are overwhelmed!
In order to avoid boredom, in the middle of promotion and tour preparations I was getting myself involved in every detail of the album sleeves, booklets and packaging, to make sure the album drags the listener into a different world. I wanted Moonglow to be an overall experience for escapists like myself. My favourite edition is the giant super strictly limited art book edition with bonus track and a bonus CD. A massive coffee table book with photos, interview, liner notes and illustrations of Victorian painter Grimshaw who has been very inspirational to me. This book edition is everything it takes to invite the listener into the world of Moonglow and its productional process.
There is also a smaller digibook version that features one bonus track and that is limited and beautiful as well. And of course there are also vinyl editions to hug, feel, watch, smell and caress.
I am extremely proud of all these little treasures and can't wait to unleash them!"
Comprising 11 tracks, the new opus once again features several guest vocalists. This time round, Tobias worked not only with well-known faces such as Ronnie Atkins, Jørn Lande, Eric Martin, Geoff Tate, Michael Kiske or Bob Catley but also with new singers like Candice Night, Hansi Kürsch as well as Mille Petrozza who help to vitalize the new AVANTASIA record. Its cover artwork was created by Alexander Jansson. 
Meanwhile, AVANTASIA are slated to have a world tour next year across several cities in Europe followed by shows in Australia and The United States. The worldwide tour spans from March to May, and that is huge. With some more dates still yet to be announced this is how the tour schedule looks like as of now.
AVANTASIA – Moonglow World Tour 2019
27.03. SK Presov – Tatran Handball Aréna
28.03. SK Bratislava – Hant Aréna
30.03. D Kaufbeuren – All-Karthalle
31.03. I Milan – Alcatraz
02.04. CZ Prague – Forum Karlín
03.04. D Berlin – Huxleys Neue Welt
05.04. D Ludwigsburg – MHPArena
06.04. D Bamberg – Brose Arena
08.04. D Fulda – Esperantohalle
09.04. D Saarbrücken – Saarlandhalle
10.04. F Paris – Olympia
12.04. D Osnabrück – OsnabrückHalle
13.04. D Hamburg – Mehr! Theater 
14.04. D Oberhausen – König-Pilsener-Arena
16.04. UK London – Forum Theatre
18.04. D Offenbach – Stadthalle
19.04. CH Pratteln – Z7
20.04. CH Pratteln – Z7
24.04. E Bilbao – Santana 27
26.04. E Barcelona – Razzmatazz 1
27.04. E Madrid – Palacio Vistalegre
02.05. S Stockholm – Arenan
04.05. RUS Moscow – Glavclub Green Concert
06.05. H Budapest – Barba Negra Track 
12.05. AU Sydney – Metro Theatre
14.05. AU Melbourne – The Forum
17.05. US San Jose, CA – City National Civic of San Jose 
19.05. US Anaheim, CA – City National Grove
21.05. US Chicago, IL – Patio Theater 
23.05. CA Montreal, QUE – Metropolis
24.05. US Worcester, MA – The Palladium 
More dates to be announced soon…! Book your live slot here.
Till then, we can surely dig in some new tunes!